tell me why they don't have a vaccine for strep yet, would ya?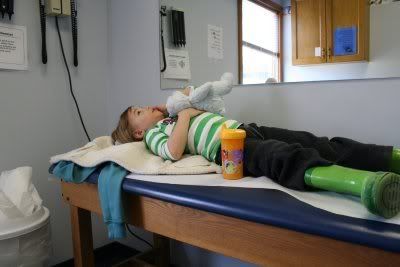 all week last week emma grace kept complaining of a tummy ache----not an uncommon occurance for the past year. nothing else hurt, no fever, still playful and eating, but by wednesday on the way to school the complaint of belly pain was coupled with a headache too.
i just knew she was in the beginning stages of strep. i mean, she's had it 3 times already this year....there's no mistaking when you've got a child who never seems to get better.
really, she's sick more than she's well. they keep telling me it has something to do with being in daycare, but i don't buy that. she's only been in daycare a year and our, sometimes weekly, visits to the doctor started well before then.
why didn't they just take her tonsils out when they did her adenoid removal and put tubes in her ears? i just don't understand that.
this is the thing that's most perplexing me today.
so she's now been on omnicef since thursday and the complaints seem to be getting worse. and now she's got a lovely, deep in the chest cough to go along with it. and the asthma attacks three nights in a row to go along with it is enough to frazzle anyone's nerves.
*sigh* i wish i could be sick instead of her.
can anyone recommend a good daily vitamin for a 4 year old who has an aversion to any type of chewable? she's also not a candy eater so the gummies are out too.