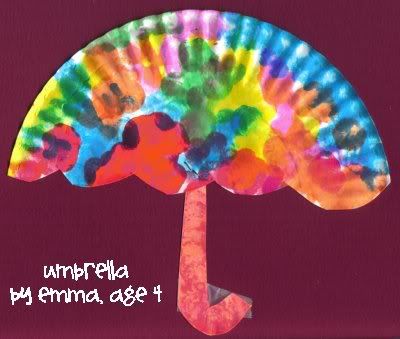 the preschool art is totally unrelated, but i thought i'd share 'cause it makes me smile. and it is rather rainy today.
in other news, this morning, i went in to ashlyn's room and sat on the side of her bed, just like i do every morning, and rubbed her back until she woke up. she's so not a morning person, so it takes a little while for her to wake up and get moving.
she usually stretches out, then cuddles back up to the fetal position, and does it all over again a few times before wiping the crust from her eyes and seeing the sun shine in. then the whining begins........."mommy, i don't wanna get up." "mommy, i don't wanna go to school today." "mommy, i didn't get any sleep 'cause emma was crying last night."
but this morning, she struggled a bit to open her eyes, and in her whiney voice started in "mommy, ummmm, " then a smirk planted on her face, and she continued---this time not so whiney..."you have a booger on your shirt." giggle*giggle*giggle.
man, i love that kid. (can it be april fools every morning?)