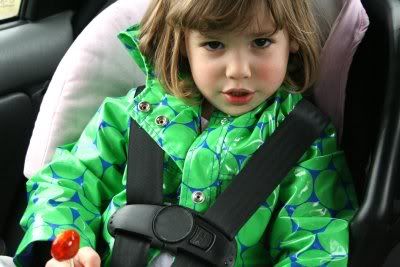 so it turns out that our trip to the doctor was reassuring, in that emma doesn't have pneumonia again, but instead a horrid bought with her allergies right now.
we were told by her pediatrician that her allergist doctor sent correspondence suggesting that if she had continuing recurred sinus infections and coughing that won't subside after months of treatment then she'd be a prime candidate for allergy immunotherapy----a.k.a. weekly allergy shots. especially because we already did surgery to remove her adenoids.
we've tried everything with this kid. well, everything BUT allergy shots.
when she feels bad she begs to go to the doctor. if i tell her the doctor is closed she then whines for me to take her to the hospital. poor thing. and her tummy always hurts. not sure if that is all the drainage from allergies or if that's from all the medicine irritating her belly.
so while we wait to get her into the allergy specialist again, we are adding 2-times-a-day intakes of Allegra to her Singulair intake and spot using the inhaler when needed.
thankfully after just a day of Allegra she is night and day. just occassionally coughing......not the all day coughing and choking on all the drainage. ick.
i'm just dreading doing this once a week shot thing because with all she's been through she still has such a positive perspective about doctors and hospitals, but i'm afraid that weekly shots is going to make her start being afraid of the doctor.
can you mom's out there that are reading who have kids that have been through allergies enlighten me a little bit with your knowledge/experiences with allergy shots and share some tips on how to survive weekly shots with a 4 year old?