i'm not quite ready for that announcement i was mentioning......or the giveaway. lame, i know. WEDNESDAY. for sure.
in the meantime, here's a distraction.....

the lovely
Michelle Houghton
is teaching a super fun class that starts TODAY over at
Get It Scrapped!
"Michelle has taught hundreds of high school students the basics of drawing and painting, and she can teach you too. Doodling and personal art has become more popular on scrapbook pages and handmade cards, but without some basic techniques and know-how it can be intimidating. Let Michelle show you how to get started with easy ways to include doodling, hand cutting, and sewing on your pages to create your own personal page art. EVERYONE can do this!"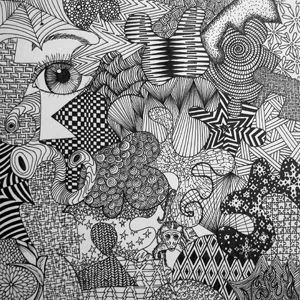 Oodles of Doodles
is the name and she'll teach you exactly that........how to DOODLE! now, before you go saying that you can't doodle, give her
FREE lesson
a try and you'll be hooked, i'm sure of it.