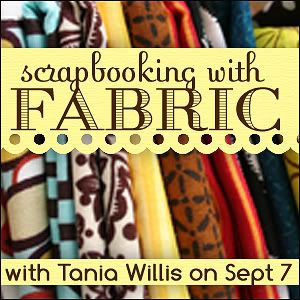 hello friends! i'm announcing my one and only class on the Fall schedule at
Get it Scrapped!
i love teaching but after this one, i'm taking a few months off until Winter.
in Scrapbooking with Fabric.......
Learn how to add the warmth & texture of various textiles to your layouts when you join me for a 6-session course, over 3 weeks, where you will learn a diverse range of techniques for adding fabric to your projects in big and small ways. Not only will you have increased confidence in yourself in using various store-bought fabrics, but you'll also learn how to incorporate meaningful fabrics as the focus of your layout. As always I will having you pushing the boundaries of your creativity, while encouraging you to reduce.reuse.recycle castoff fabrics to make them useful again.
Scrapbooking with Fabric runs from Mondays & Thursdays, September 7 - 24 for $35.
Registration is now OPEN,
click here
.
Topics Covered in Class...
1.
In Raw Form:
focusing on the basics of fabric shopping, discussing appropriate fabric adhesives, and exploring ways to incorporate fabric onto your pages in raw form without any extra fuss.
2.
Perfectly Polished:
focusing on a variety of ways to stabilize fabric, substituting fabric for paper and exploring ways to give fabric a polished look bringing it center-stage.

3.
Embellish It!:
focusing on making fabric embellishments and using fabric as more of an embellishment to your projects than the main spotlight, including ways to recycle fabric from clothing to fit this purpose.

4.
Ink it Up:
focusing on ways to alter your fabric with ink, stamps, glitter and more, including tips on printing photos on fabric.

5.
Once Upon A Time:
focusing on ideas for incorporating meaningful fabrics as memorabilia on your layouts, as well as, reduce.reuse.recycling appliqués and embroidery segments from clothing.
6.
How Do You Do?:
focusing on ideas for creating fabric greeting cards & envelopes that are perfectly suitable for mailing.

if you have any questions about online class, you can see some
frequently asked questions
from my last class here.
the three most common questions i've been asked for this class is:
1.
do i have to have a sewing machine?
the answer is NO! in this class, there are only 2 examples using a sewing machine and both examples can be done with no sewing at all or be hand-stitched instead.
2.
do i have to be there on the exact days the classes are posted?
the answer is NO! you can come download your class materials at any time after they are posted and work on the class at your own pace. i am always available to help any of my students even well beyond the time that class dismisses also.
3.
do i have to live close to a fabric store to get supplies?
the answer is NO! you can find everything we will use in the sewing section at Walmart if going to a fabric store is too overwhelming.
if you have any other questions, please post a comment and i'll answer you right in the comment section! hope to see you in class!