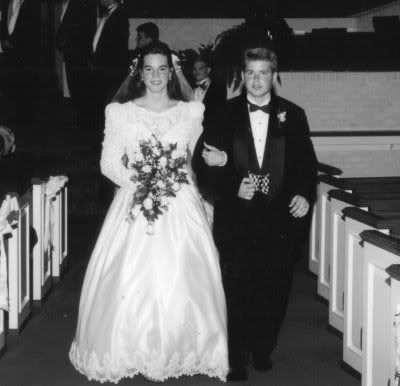 on August 12, 1995, we walked out of the ceremony with the lyrics to Steven Curtis Chapman's "Great Adventure" echoing through the sanctuary.
Video here.
Lyrics




Saddle up your horses we've got a trail to blaze




Through the wild blue yonder of God's amazing grace




Let's follow our leader into the glorious unknown




This is a life like no other - this is The Great Adventure





Come on get ready for the ride of your life




Gonna leave long faced religion in a cloud of dust behind




And discover all the new horizons just waiting to be explored




This is what we were created for





Saddle up your horses we've got a trail to blaze




Through the wild blue yonder of God's amazing grace




Let's follow our leader into the glorious unknown




This is a life like no other - this is The Great Adventure





We'll travel over, over mountains so high




We'll go through valleys below




Still through it all we'll find that




This is the greatest journey that the human heart will ever see




The love of God will take us far beyond our wildest dreams





Yeah... oh saddle up your horses... come on get ready to ride




And an adventure it has been and continues to be as we make our way through seasons of love. adventure that started immediately following our reception with the
birdseed fiasco
. hahhahaa. (you know we'll never let you forget
jon
&
nik
! *smooches*)
the Spring of our marriage was full of abundant growth as we learned more about each other day by day. blossoming in love, we took each day to nurture each other and watch our relationship bloom. the days were spent focused solely on one another, with the most stress endured while we moved from one apartment to another with each flip of the calendar. it became quite a joke for those who helped us move time and time again. our biggest challenge in the early days of our marriage was finding a diagnosis to my heart condition and teaching that puppy not to piddle on the carpet. stressful stuff, i tell ya. carefree and ready for adventure, we 'saddled up our horses' and moved forward on that trail we were blazing and created a life away from family a few hundred miles north of home. those days were full of unknowns and adventure. learning to lean on each other with no other support system around. we became quite loved by our church family and the youth. we were blessed with two daughters both born at our home away from home, moving back shortly after the second came along--we were away for 5 years in all. looking back I wish our season of Spring was double the 6 years we had without children so we could store up some reserves for the days that lie ahead.
before we knew it, we entered our season of Summer. the hot, sticky, sometimes miserable days of child-rearing seem unbearable at times. days filled with struggles seeming to pass slower than molasses. for along with the mental, physical and emotional draining that naturally takes place during child-rearing, there is still everyday life and challenges that don't involve the children that need some attention too. as we try to instill values in our children and they get our very best, may they see joy on our faces and love in our eyes and written upon our hearts with the reserves we have leftover to give each other. thankfully the joys outweigh the heartaches we've experienced during these years and the reward at the close of the season will be worth it all as we grow closer in love with each other, trying with all our might, not to get tangled in the trappings of this world.
as we enter Fall, we will wonder how our Summer passed so quickly and we'll be itching to experience those moments again. for, surely they are fleeting. i pray we will rediscover what it was that made us fall in love…laugh about all the times in our Summer that we let our arguments push us apart, rather than make us magnetic. i'm sure we'll be sad that our Summer has passed, but we'll cherish all the days of Fall we have together, for Winter will be just around the corner.
when our Winter arrives i will be thankful for your everlasting LOVE and faithful commitment to my heart and soul. i'll be thankful for unconditional love and for the fact that we didn't become a statistic during life's challenges and heartaches. in our Winter, absolutely more wise than in our Spring, we'll be aged and gray, with failing health--but none of that will matter. For as we vowed on August, 12, 1995 "Until that day when one of us has to lay the other in the arms of Jesus, I will be with you, and you will be with me."
like i said
last year...
it's been a tremendous adventure of ups and downs--mountains and valleys—trials and successes. we had NO idea what love really was on that day 13 (now 14) years ago when we both thought we held enough love for a lifetime in our hearts. no idea at all. our love has definitely been tried and tested over the years and somehow survived. it has grown deep and wide and has been a beautiful (and sometimes not so beautiful) dance of give and take. one where I must say that he gives, way more than he takes and he can see beauty in me when no one else does. and I am here today to say that I am still so very blessed that he is mine.
may we have a lifetime of Great Adventures ahead.
happy 14 year anniversary, my love.
(i still don't feel old enough to have been married for 14!!!! years)