we're doing blogging challenges/prompts over at
Get It Scrapped
every day for the entire month of August and i've got Sundays!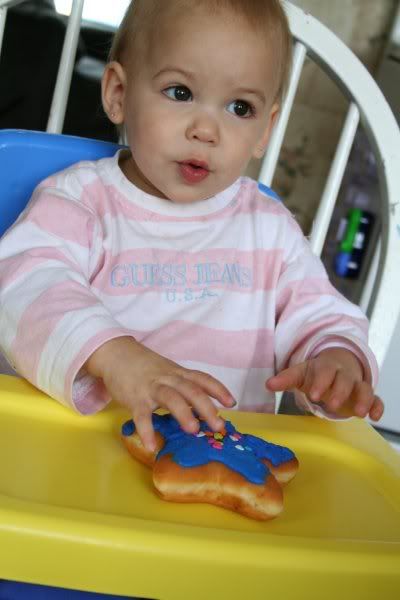 (emma with her first donut, May 2006)
i picked Savory Sunday as the focus today, because i'm guessing that Sunday is usually a day centered around food with family gathered around........am i right?
a universal bond: food & family.
i want you to tell me what your Sunday dinner table looks like. how has it changed over the years. do you make the same thing every week or is Sunday reserved for going out or ordering pizza? who gathers around? or maybe you'd rather reminisce and talk about Sundays at a child and the memories it evokes. perhaps you have a favorite recipe to share and it has nothing to do with sundays at all. but it's savory and it's sunday, so go for it!
through the years my Sunday food/family gathering has changed many times depending on whether i was living at home or off on my own, where i was going to church, whether i was married or had kids.
before i was married i remember Sunday mornings being reserved for a trip to Grammy Lou's house to visit her & my Great Grandma Root. the visit was always with my dad and a box of donuts in tow. i'm not a huge fan of donuts, but the conversation and stories made it easier to choke one down.
after i was married most Sunday's were spent eating out with a group of friends after church or eating hot roast beef & potatoes with gravy at his mom's house when all us kids lived in the same town.
sunday's in canton we often ate at El Campisino's----best Mexican food you will find, EVER!
but now that we have kids, Sunday's are reserved for dinner at home and treats made as a family and usually involves baking a cake and making either fajitas or shishkabobs. come winter it will be chili or loaded potato soup with hot apple pie. one thing for sure, sunday's are always dinner at home with just the four of us, unless it's a holiday, then you can guarantee we'll be cooking out at dad's house.
i don't have a recipe to share today, but i've shared several through my blogging days and they can be seen by
clicking here
.
hope your sunday is savory!