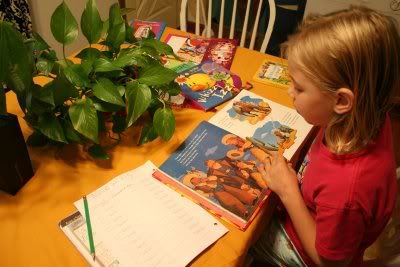 we're still trying to settle into a new evening routine over here to squeeze in time to work on homework and reading assignments between dinner, family time and bath time. i'm so thankful that her teacher gives weekly homework packets to work on throughout the week at a pace that fits our schedule. so, much easier than stressing over nightly homework. and, i'm very thankful schoolwork is something she loooooooves to do.
in other news.........
spidergirl is sick again. poor thing. this time it's a productive cough...that could be croup, or pneumonia....or just nasty, icky, ick. it sounds horrid.

sleep is not happening because of said cough. *yawn*
our visit to the doctor tomorrow for that same cough will make 2 appointments in just as many days.
today's appointment was a with a different doctor for a different reason: surgical follow-up. she's completely healed from her tonsil surgery is what they said. awesome.

not a whole lot of people picture taking happening lately---must remedy that soon.
although, i have taken approximately 5, 436 photos of scrapbooking related photos---for that class. :o)
after being asked through comments and emails, i've added a "follow me" link over there in the sidebar. i aim to please. *smile* if you're so inclined.....follow me.

this weekend i'm being taken away once again for another adventure with the adventurers. and i have NO idea where i'm going or what we're doing. i do know this. it will be FUN.
wait, i take that back. i do know there will be a stop at IKEA. woohooooo. my wallet is prepared! now to make my shopping list....
and dang....looking at those pictures from last trip makes me wish my hair would grow a little longer already. think pulling on it will do the trick? heh.

super inspired by fabric lately. especially by this! i will be making one as soon as my fabric class is over. i have plenty of scraps.....and the technique is just BRILLIANT!
wow. i'm jumping all over the place. total randomness. need.to.focus.

oh....drawing a winner for that free pass tomorrow! don't forget to comment for your chance (two posts down!)
and i'm hoping to put up another tutorial tomorrow--the Butterfly Mobile. the current sidebar link for that one is leading to a blank page, so i think i'll just put it right here on the blog in it's own post! (hoping...depending on how needy the spidergirl is, i might have to delay it a until monday.)
over and out. peace.