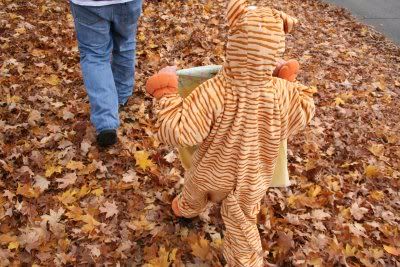 between two separate halloween festivities--trick or treat & trunk or treat--the girls have at least 15 lbs of candy!!! they scored big time. it was the most fun i ever remember with them during the fall holiday season so far. last year we stayed in for the most part and celebrated with a small group of people so we didn't have the sugar overload that we have this year.
(maybe i better purchase a dozen gingerbread houses and make it a monthly tradition, LOL)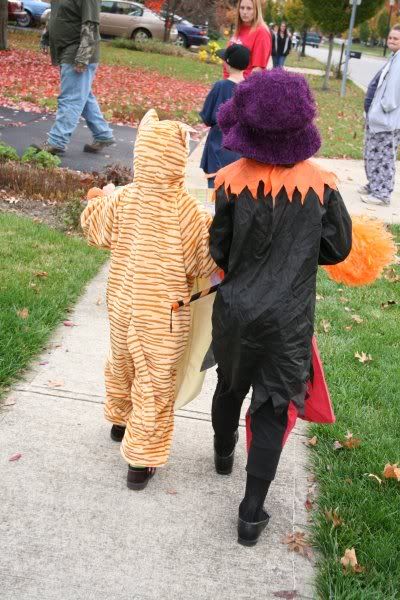 we went to the downtown Groveport neighborhood so we could stop by and see some of doug's family. i absolutely adore that neighborhood. almost every house participates and they sit out in their driveway or on their porch passing out candy. it was delightful to see how giddy they both were carrying their pillowcases begging for loot.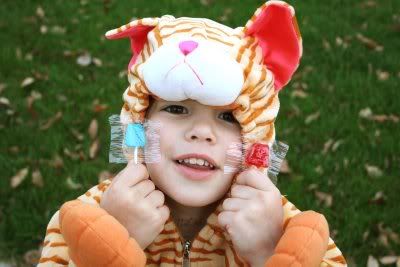 emma is finally at the age/stage where she gets it. even though she only likes plain chocolate and suckers, she still enthusiastically walked up to each door and said thank you knowing she wouldn't eat most of what was going in her bag. but she didn't care. she was just tickled pink that everyone kept oooing and ahhhing over her kitty cat costume. on repeat from her mouth...."mommy, that lady waved at me and said she loves my costume." i was even more thrilled knowing that i thrifted it (brand new) for $3!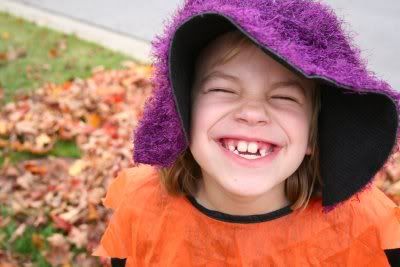 ashlyn kept flashing me this obnoxious smile, LOL and then she'd stop and rubbing emma on the head saying "awwww, emma, you're just so cute i can't stand it." hahhaha. gosh, i love her.
it was adorable. much to my surprise, she was a hodge-podge witch for trick or treat. for weeks and weeks and weeks all she talked about was dressing up as PBS cartoon character, Arthur. i thrifted some clothes for her costume, she came up with the mask idea....the works. but i came home from work and she was in an old witch costume from her dress up box. i still can't figure out why she changed her mind.
so that was trick or treat on thursday night. then, saturday, at their daycare (which is at a church), we took them to the trunk or treat festivities where they decorated the trunks of their minivans/trucks and passed out candy. there was also hayrides, pony rides, food, and more.
of course, since they have an overflowing amount of dress-up clothes, they changed costumes for this event. this time sticking true to their most favorite of all time. if you know my girls at all, it shouldn't take much to guess what that is for each of them.
Raggedy Ann....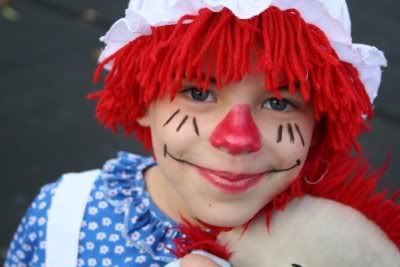 and Spiderman!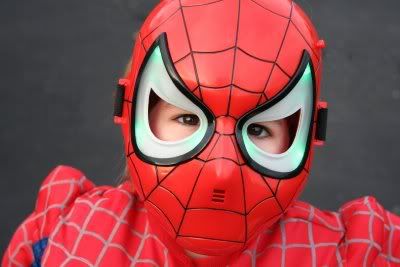 irresistably CUTE! especially cute was the light-up mask (again, thrifted).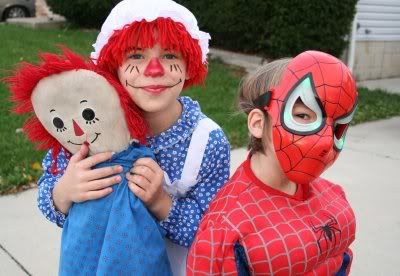 i'm so, so, soooo thankful for technology & for kids that loooove to dress up (halloween or not), because all of these photos make me
ridiculously happy!