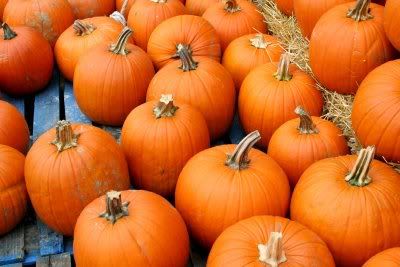 and it only lasted about 5 whole minutes. but emma begged and begged to carve pumpkins this year. we don't carve pumpkins--we paint them. every year. in fact, we haven't carved a pumpkin since ashlyn was 10 months old--
she's almost 8
. seriously.
i'm certain she only learned about carving a pumpkin from preschool. but, i'm flexible. all kids need to carve pumpkins once during
the year
their childhood, LOL.
have i mentioned how hard it is to find pumpkins on October 31st? it's hard. nearly impossible. but our local farmers market saved the day....
why didn't i think of that first?
so, anywho. sunday, we carved pumpkins. and i was reminded of
why
we don't carve pumpkins. the kids poop out way too early, then the parents are left doing all the work.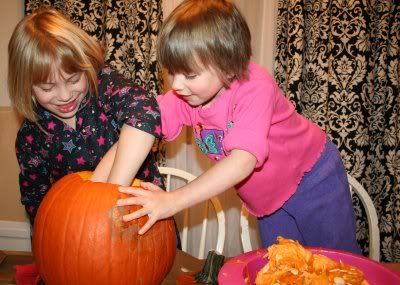 "ewwwwwwww. that's disgusting." giggle.GIGGLE.giggle. on repeat from emma's mouth. besides thinking it was disgusting & delightful at the same time, she also kept freaking out that we were throwing all the pumpkin guts and seeds in the bowl for the trash.
she wanted to keep every.single.seed. she has a little obsession with seeds.
nervous giggles and "i don't want to" was on repeat from ashlyn's mouth. then a minute later she'd be digging in. then washing her hands and back to observing & "no mom, do it this way." then, shyly looking on again.
for the most part, she didn't want any part of touching the goopy goo inside the pumpkins. i didn't figure she would, but she didn't have a meltdown about it either----major progress.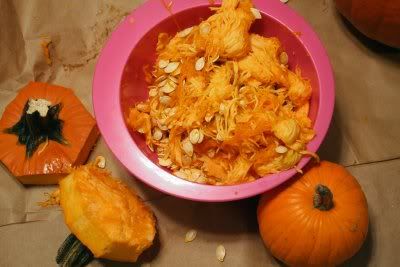 instead she sat and expressed art direction for eye, nose and mouth placement. she was also determined that her dolly be a part of the festivities, so we had to carve a baby pumpkin just for dolly. right now, dolly does everything she does.
i did learn that the apple corer comes in handy for creating the most perfect circles for eyes. emma kept playing with the cut out pieces and plugging them back in like puzzle pieces to make the pumpkin whole again. hysterical.
anywho. we ended up with mr. jack, a kitty and a baby dolly face.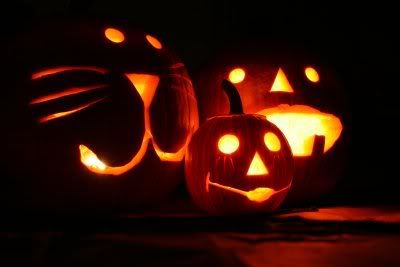 in the end, it's all good. and..... i think that experience will last me another seven years. LOL.