this is my favorite, favorite, favorite paper in the collection. something about that moon is so very charming.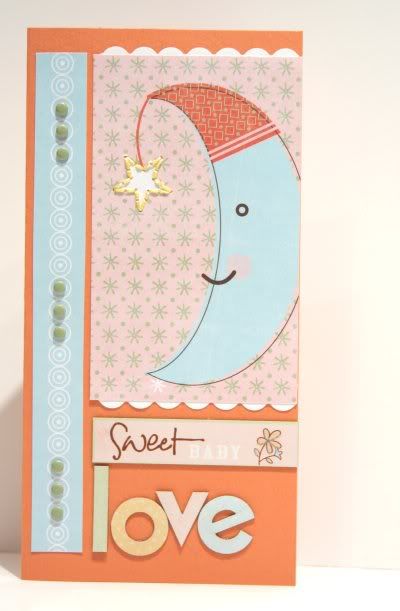 this is another new one from
Little Yellow Bicycle
. Snugglebug (girl version). and if you're wondering, yes, there is a boy version of this collection too! this is another new collection that's SO new i can't link you to see it yet....but will as soon as it is posted on their site.
i'm working on putting together a giveaway of bits and pieces of all these new collections i've been sharing! stay tuned.....maybe this weekend if i can borrow a camera
(mine is *still* in the shop. grrrrr.)
in a close second, as my favorite, is this chipboard caterpillar embellishment. irresistible!
between those favorites and the color combination through this entire collection, i think i could smile forever! don't you agree!? looooooove that melon & light blue combo.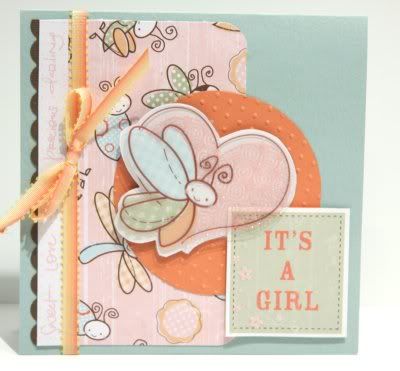 after making the cards, i spent an evening altering these
Funky Frames
from
Kaisercraft
with the Snugglebug Collection!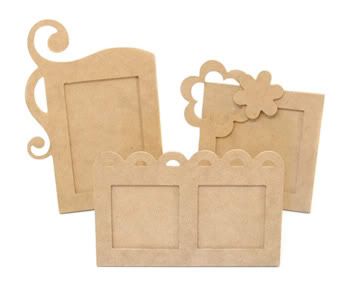 i gave them each a quick coat of paint with a foam brush which made the xacto cutting work not as difficult since doing so helped me avoid handcutting those swirls & scallops. but then after covering the main portion of the frame with the Snugglebug products, i perked up the painted portions with Stickles glitter glue.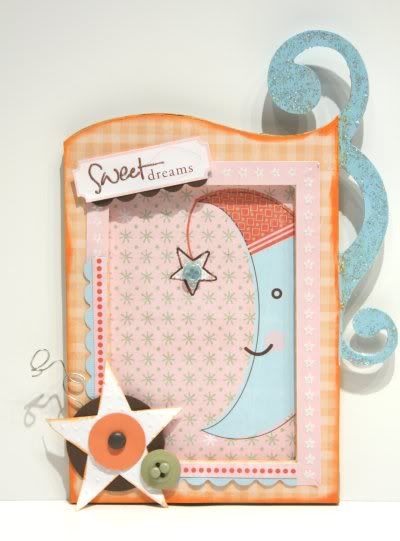 and you see that itty bitty little pink flower down in the corner by the snail? that, my friends, is a SHRINKY DINK! Little Yellow Bicycle is selling some cute little characters pre-printed on shrinky dink film. All you do is color on the back with colored pencils & heat in the oven according to package directions. in two minutes----yes---just two minutes, you have a custom embellishment! the flower is one of the smaller shrinky dink items. i'll do a quick tutorial on them when i get some more of the product sent my way.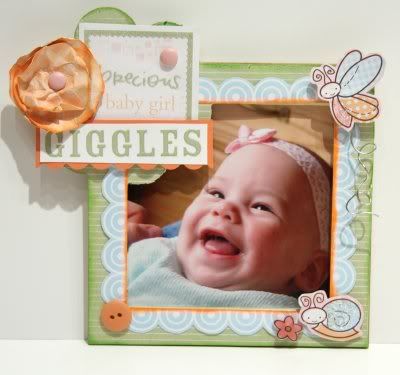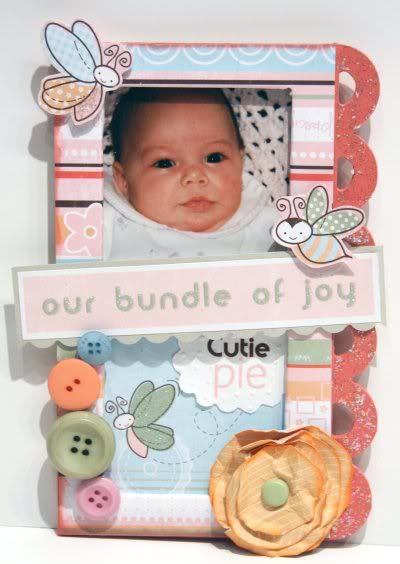 (

Supplies

:

Paper, Embellishments, Stickers, Chipboard Elements, Clear Accents, Shrinky Dinks -

Little Yellow Bicycle

, Adhesive -

Tombow, Stickles Glitter Glue - Ranger, Paint - Making Memories, Scalloped Border Punch - Fiskars, Cuttlebug Embossing Folder - Provocraft, Funky Frames - Kaisercraft, Embroidery Floss - DMC)