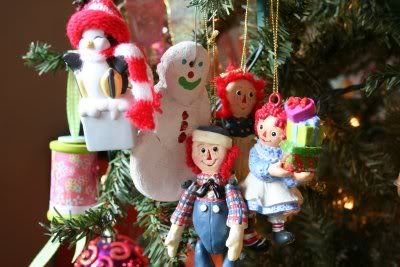 the New Year doesn't officially start until there's we've hit the first Monday of the year---am i right!? that's my story and i'm sticking to it!

i had four days in a row off work and enjoyed them entirely too much to sit down and take a moment to blog. we played, we ate, we watched movies, we napped, we relaxed, and we crafted. i seriously needed those four days. it felt like a month...in a good way.

so, it's now 4 days into the New Year and....
as you can see, my tree is still up
more and more ornaments are being clustered together as little hands just cannot resist touching them every time they are within a foot of the tree
we have two stir-crazy children that need to let off some steam...they are literally bouncing off the walls
today was the first day back to school for the kidlets since dec 18th and the first day back to work for the husband since dec 23rd
you might think that meant major meltdowns this morning, but the morning routine went surprisingly well
today was the first morning i had a few hours to myself between the school drop and heading to work in well over a month....december was a busy one
i waited with baited breath all day for an annoucement to be made for a new design team i applied to last month
that announcement just came and my name is on the guest designer list! super thrilled! of course when it's actually the month for my turn you'll hear all about it right here. (for those of you not into scrapbooking, this simply means that one month in 2010 i will design projects with their products and be featured on the Pink Paislee website..yay!)
i haven't set any goals for the year yet, but i will.
as encouraged by Ali E., i have picked one little word to focus on in 2010: my word is TRUST. i'll have more to say about it someday, just not today.
i do have a list of projects to finish though. those include:
photographing ornaments and documenting the meaning behind them
painting the unpainted wall in the bathroom
painting the playroom
making a curtain for my back door
oh, who am i kidding, this list really could be a never-ending one. but those are good to start
the list looks suspiciously like the one i made 2 years ago. *sigh*
i'll start tomorrow. ha. no, really. i will. with the ornaments.
do your branches (or did your branches) each have 6 ornaments weighing them down? LOL. i love the way kids think ornaments looks so much better when clustered together with their "friends, so they don't get lonely." how cute is that!?
HAPPY NEW YEAR friends!