i said i was going to do it and i meant it! only thing is, i was so excited about actually getting it done that i ended up with nearly 30 ornaments photographed. so this will be a 2-part photo share.
i think i've mentioned before that each year we buy the kids an ornament (or two) to add to the tree. when they are grown and move out they will take those ornaments with them so their first tree isn't bare. instead of just randomly selecting an ornament because it's cute, we try to select an ornament that has a special meaning behind it or we pick something they were excited about during that year.
anywho.....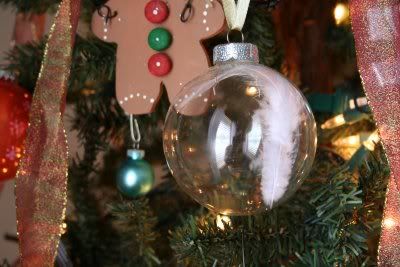 :: this is the
newest
ornament on the tree
(and one of the most difficult to photograph)
. it arrived, wrapped with care, on my doorstep just before Christmas from my sweet friend,
Amanda.
We share a common bond of having lost a parent suddenly and unexpectedly---her dad (Aug 07), my mom (July 07). enclosed were these simple words on a card...
A feather from an Angel is one we hardly ever see.
But this one is quite different and as special as can be.
This feather's a reminder of a special person's love,
who is now a Guardian Angel watching and protecting you from above
such a random act of kindness and a wonderfully thoughtful surprise. i love those kind of surprises.
:: and you can see just a peek of a gingerbread man up there. one year my dad cut these all out for me and i painted and painted and painted gingerbread men. i can't even begin to count how many of these i've given away. lots.


:: this one was also added to our tree in 2009 and was made at school by Ashlyn (second grade). they started with a thick piece of tree bark (which is hard to tell in this photo) and painted it with paint, Snow-tex & glitter. i looooooooove it!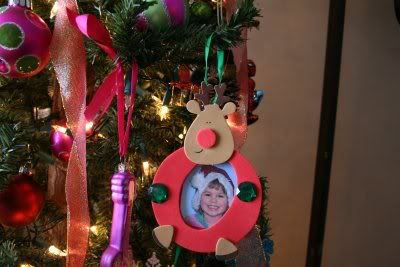 :: this one, added in 2009, was made at pre-school by Emma. bless those teachers. i totally adore that they take time to photograph the kids and help them assemble an ornament. i'm pretty sure i have a similar ornament for emma (photo + frame) from the last 2 years.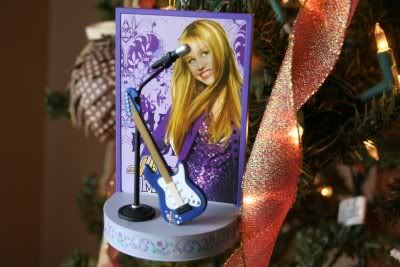 :: Ashlyn's ornament for 2009 is one i picked up just after Christmas in 2008. she was a huge fan of watching Hannah Montana on television, but lately has ditched that for iCarly. she's still a fan of anyone who can play the guitar though---i haven't shared much about Christmas yet because the amount of photos i took was overwhelming. she got a real PINK guitar for Christmas and hasn't put it down. this ornament plays a short tune of one of Hannah Montana's songs and is autographed on the back.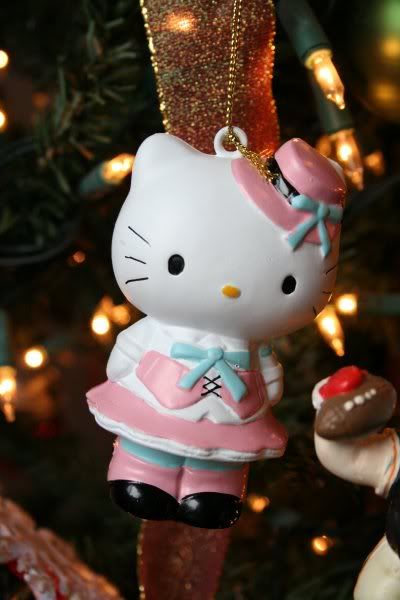 :: Emma Grace got Hello Kitty in 2009. she's obsessed with anything and everything named "kitty". the girl adores all animals, but is especially fond of kitty cats. we have to stick to ornaments & stuffed animals since she's highly allergic. anywho, she had a Hello Kitty birthday party this year after changing her mind every hour in the weeks leading up to her birthday.



:: this one was added in 2002--Ashlyn's first Christmas. she was 11 months old. if i remember correctly, it was given to her by doug's sister, Cindy. it's the only "baby's first Christmas" ornament we have even though we have 2 kidlets. although i'm thinking i'm might be remembering wrong--bad memory i have. Emma was born dec 5th, 2004 and Papa & Grams (dad & step-mom) brought a stocking filled with goodies for her when they visited us in the hospital. Connie...did it have an ornament and i'm not remembering?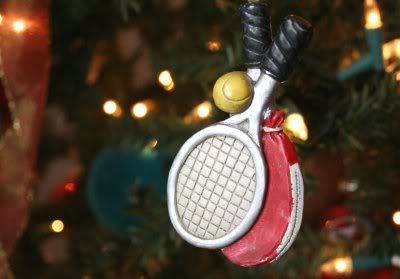 :: this tennis racket came to us during our first Christmas from Doug's family's tree and has been placed on our tree for 15 years in a row now. i don't talk much about our youth here on the blog (something i hope to change with his help---i have a terrible memory on details), so many of my readers have no idea but my husband was a 4-year Varsity tennis player and dominated the courts playing number one singles in highschool. thus the reason we have a tennis ornament. he also played a mean game of doubles with Mark Barrett. they went to school with Lilia Osterloh, a women's professional tennis player.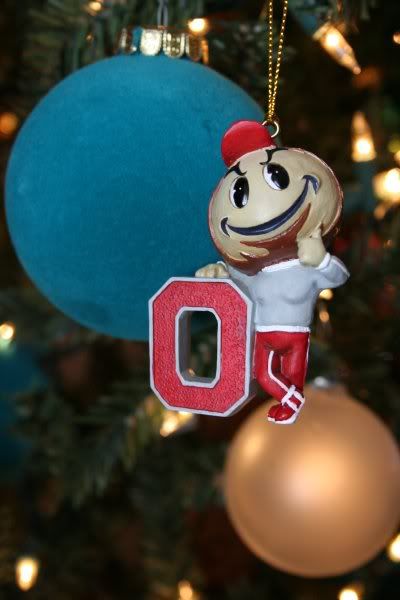 :: another one of doug's ornaments we've adopted. you just can't live in columbus, OH without having at least ONE Buckeye ornament on your Christmas tree....just can't. did ya'll see the Rose Bowl??? CHAMPIONS baby!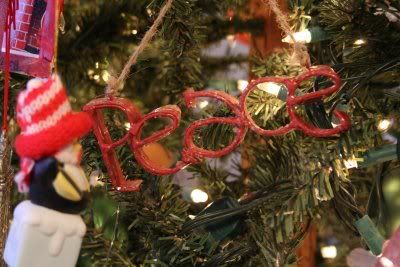 :: this one came to us by way of a game of greed (or sometimes referred to as white elephant gift exchange) at the Perry's house. i'll never forget that party! wikipedia has a good description of the game here. we've decided to play this game at grandma's on Christmas Eve this coming year. can't wait.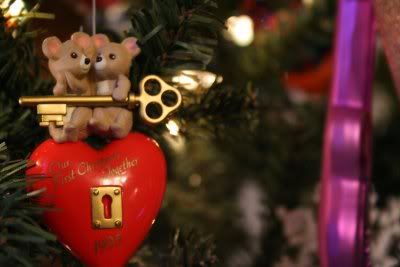 :: a classic Hallmark ornament, received as a wedding gift. another one that's been on our tree for 15 years! 15 years. unbelievable! sadly, i can't remember who this was from, but could find out by looking it up in our wedding album. i *think* it was also from Cindy. cindy, do you remember?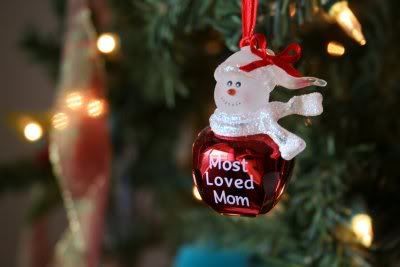 ::gifted to me from the kiddos in 2007, i think (on the date part, not who it's from, LOL). i can't remember exactly though. either way, i *adore* it. maybe doug remembers?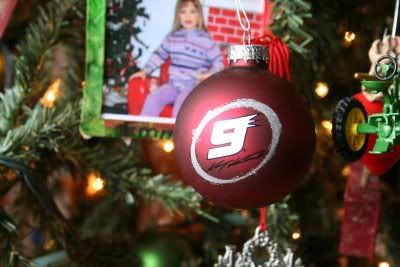 :: Nascar, you say? yeah, Nascar. it makes me smile every time i see it. i'm not a Nascar fans at all. the noise and the mundane repetition drives me a little batty. but, my husband took interest in Nascar because it was something my mom enjoyed so much. it gave him something to talk about with her that interested her.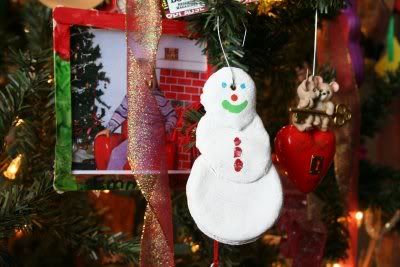 ::believe it or not, this one was handmade in 2009 by doug. we made salt dough ornaments one sunday afternoon as a family. only half of them ended up getting painted prior to christmas. the other half will be a rainy day activity sometime this year. i think we need to seal them after painting but haven't done so yet. any recommendations on what to use?

okay.........that's enough for today. now, i need to get to work on part 2.

as Sharyn says, a christmas tree is like a scrapbook with branches. i like that.