after posting
part 1
, i was doing a little blog hopping myself and while visiting one of
my favorites
,
i instantly thought---i'm SO going to
start writing notes
.
she's brilliant! what a treasure to pass along meaningful stories to be discovered year after year after year....and in your own handwriting to boot! oh, and packing each child's ornaments in their own box.....BRILLIANT. i don't think she knows how brilliant she really is. i'm adding that to my list of projects for the year.
anywho.....more ornaments.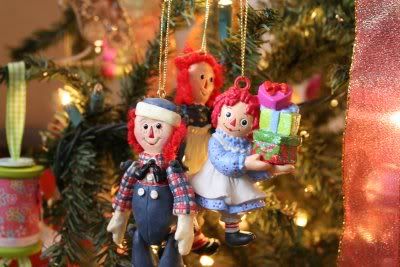 :: these are all Ashlyn's. the one on the right was new in her stocking in 2009. if you've read my blog for any length of time you know that she has a fascination and strong attachment to Raggedy Ann. it's her comfort item of choice and she's carried one around with her every.single.day since she was 5 months old. of course she couldn't have it any other way than for them to be in a cluster as a "family" on the tree.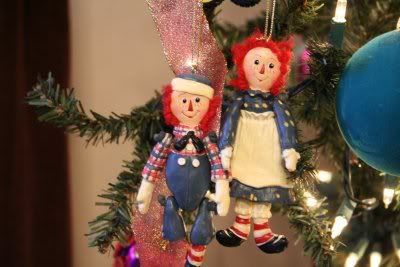 :: a better peek at the other two. i'm pretty sure at least one of these came from Grams as a gift....maybe even both of them. my memory is fuzzy. one of them lost a lower limb while in storage. boo.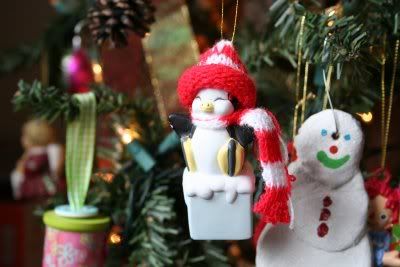 :: ah, the penguins. i have a set of 4 of these little dudes. i bought them while visiting doug's sister & husband loooong ago. maybe 13 or 14 years ago. they came from a quaint little shop in Springboro, OH. you see, when doug and i first started to date---our first official date, in fact---we went with his sister & her husband to see Winterlight Wonderland at the Columbus Zoo. i hadn't been to the zoo in some time and was super excited to see the penquins. really, the only animal i was exicted to see. but was disappointed to find a sign in front of the penguin display that said "due to inclimate weather (freezing temperatures) the penguins will not be on display." say what!? don't penguins live in the cold??? so, ever since then it's been a joke and i've been gifted lots of penguin things.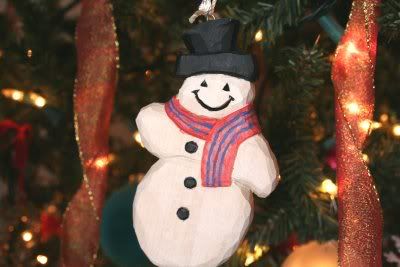 :: this one i purchased in 2008 from my favorite blogger's husband---she refers to him as Pa. handcarved and painted. i love the quirkiness of handmade pieces. i've known Sharyn for many years now through time together on a design team...and her kids make the BEST snowmen.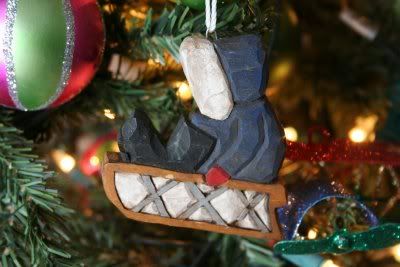 :: i don't remember the reasoning behind it, but Sharyn sent me an extra ornament with the snowman i ordered. SO sweet. i *adore* this one.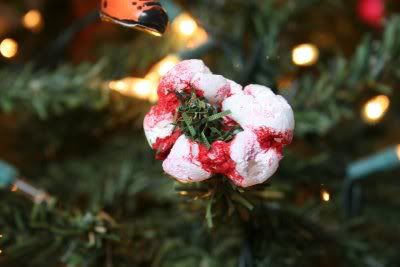 :: if you know my girls at all, you know that 1. they like crafts 2. they like to paint and 3. they like to recycle. they had the brilliant idea to make ornaments with some packing peanuts that came in a package. what we didn't know was when you get packing peanuts wet, they shrivel up to almost nothing. this was a heart, now it's a, uh, wreath? i don't think it will last until next year.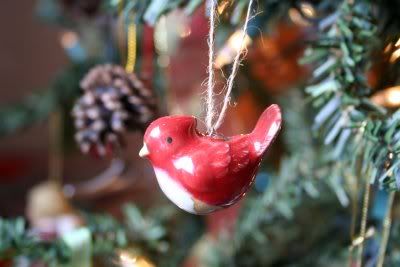 :: this little birdie was a new one gifted to emma in 2009. if you remember from part 1, she's an animal lover. she's fascinated by watching their every move. "awww, isn't he so cute, mama?" i hear that lots.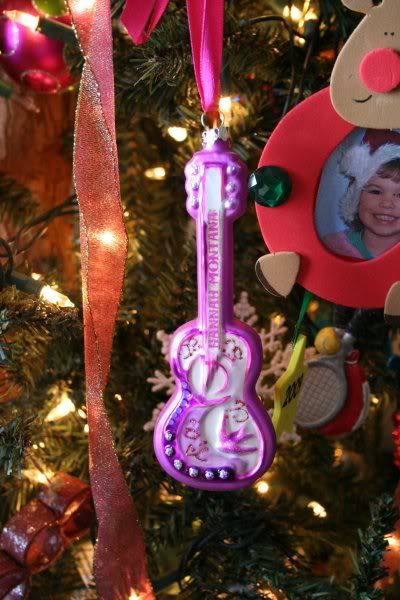 :: Ashlyn's 2008 addition. another Hannah Montana guitar. she said she wanted a guitar for Christmas that year, but we didn't think she was quite ready to care for one properly....so she got a miniature one instead. this year, though...she got the real guitar from Grams & Papa---and loooooooooooooves it.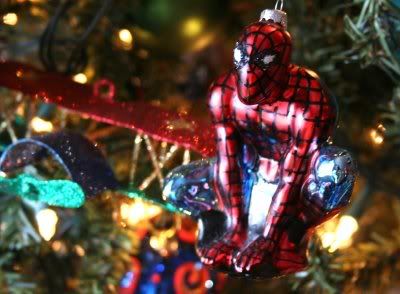 :: another difficult one to photograph. this was Emma's 2008 addition. her collection just couldn't be complete with a Spiderman ornament. sadly, this one is already broken. i'm on the hunt for a replacement, but Spiderman ornaments are hard to come by....otherwise we'd have several. she's a lover of Spiderman.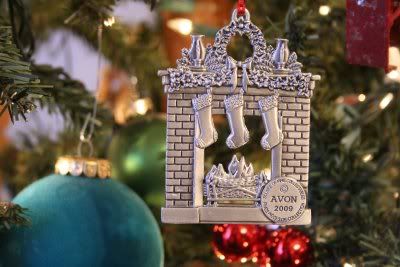 :: another new in 2009 ornament....that makes 6 new ornaments this year! every year doug's mom sends us an Avon ornament. we have every single year for the last 15 years, i think? hmmm, now i'll have to line them all up when they come off the tree. i know we are missing one year but can't remember why---maybe they didn't make one that year? anywho. they are all pewter/brushed nickel and some have rhinestones or pearls embellishing them.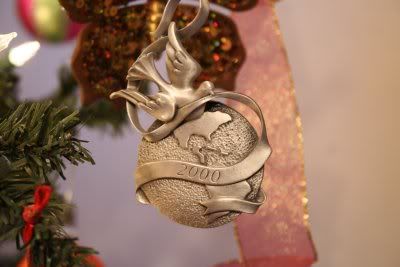 :: here's another from Avon. i haven't photographed all of them yet, but will before the tree comes down. YES, it is Jan 6th and my tree is still up.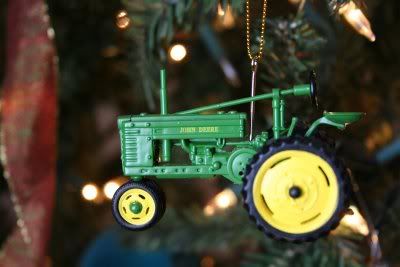 :: this is Ashlyn's, added in 2008. she participated in a
kiddie tractor pull
that year and won. ahhhh, what a memory.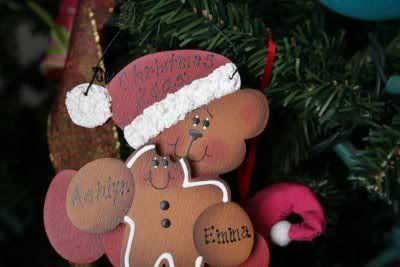 :: for the girls from Suzi's family, in 2005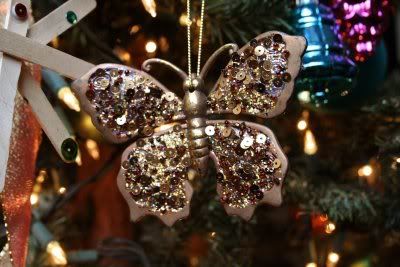 :: this one looks kinda drab in this photo, but it's sparkly and reflective. it's a remembrance ornament. whenever we see a butterfly it makes us think of Big Grammy (my mom). she passed away July 2007. this was added to the tree that Christmas.
and that's all i have photographed so far. i had to switch gears and focus on all the CHA projects that need finished up in the next 2 weeks. my tree very well may stay up until the end of january. HA! doesn't bother me any.