if you are anxiously awaiting January so your kid can participate in the National Kiddie Tractor Pull Competition at the State Fairgrounds. hahaaaaa.
what's that, you say?
here's the scoop.
National Kiddie Tractor Pull is a miniature tractor pull for boys and girls from the ages of 3-8 years old. There are three age classes, 3-4 years old, 5-6 years old, and 7-8 years old. It is 1/10th scale size using pedal tractors and a scale size weight transfer sled. The pull lane is 30 feet in length. They pull a sled with a pedal tractor and as they proceed down the pull lane the box moves forward transferring the weight from the wheels to the pan, which makes it harder to pull. Weight is loaded into the box until there is a winner from each class.
cute little tractor, don't you think?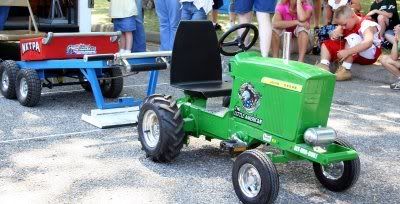 so, two weekends ago we were at the Carroll Old Timer's Festival and they had this little tractor pull competition for the kids. we were just heading over to watch after enjoying the water battle the firefighters had in the street. little did we know that the kids would actually get to participate in the tractor pulling gig.
first up was the 3-4 year old class----which included emma and my nephew justin (who is only 2 days older than emma). they started off with an empty trailer which weighs 100 lbs. on it's own. piece of cake for both of them. the ended that round with a "full-pull".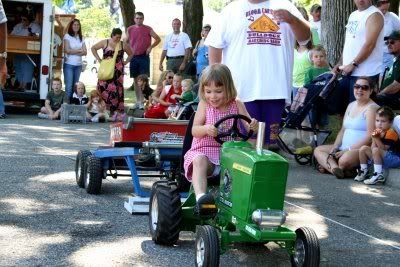 then they were both back up for round two. they keep pulling until they have 3 or less making a full-pull, otherwise they have to pull again to determine first, second and third place winners. but, the catch is.......with each round of pulling, they add weight to the weight sled. so round two they were pulling 160 lbs. they must keep peddling and not let go of the steering wheel or their pull is considered complete. emma made it 7 or 8 feet with 160lbs. she was thrilled as ever to get that little blue ribbon.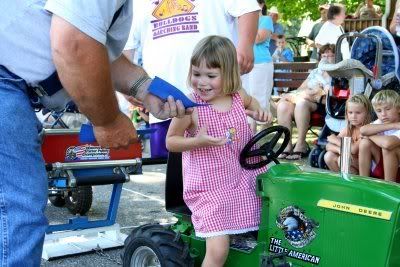 justin.......he made it a little further.....about 25 ft. so close, but instead he looked around and started waving like miss America. it was hysterical. we were all laughing so hard that i didn't snap a picture in time to capture it. but here he is getting his ribbon.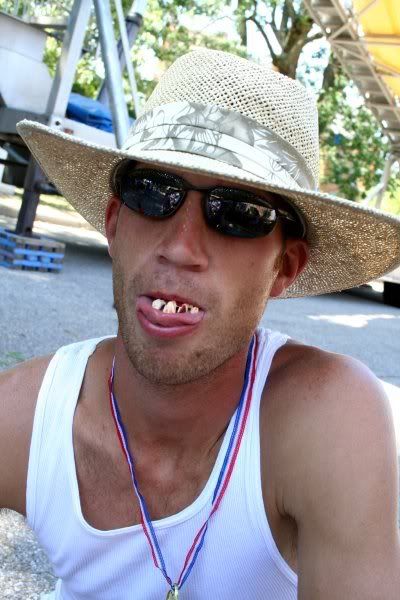 oh wait! wrong picture. that's michael in disguise, just taking a breather from all the media attention from the olympics.
just kidding.
that's my crazy brother.
okay.....back to justin and his ribbon.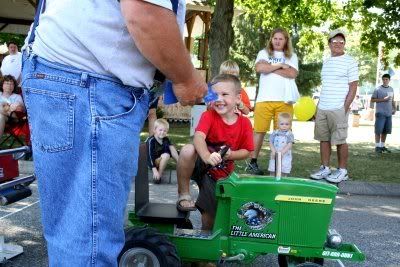 and then, comes ashlyn's class. there were 12 in her class competing. when it first started out, she was totally clammed up and i could tell just a little overwhelmed and not quite sure what this was all about. but, she knew she wanted a trophy. she had one heck of a cheering section (dad, connie, grandma, mike, justin, emma, suzi, and me!) rooting for her, so she kept on pedaling her way right down the lane.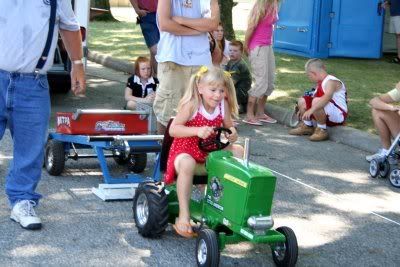 9 of them made a "full pull" during the first round, pulling 160 lbs. so, those 9 got to pull again, this time with 200 lbs. in the weight sled. by this time, she was over the top excited!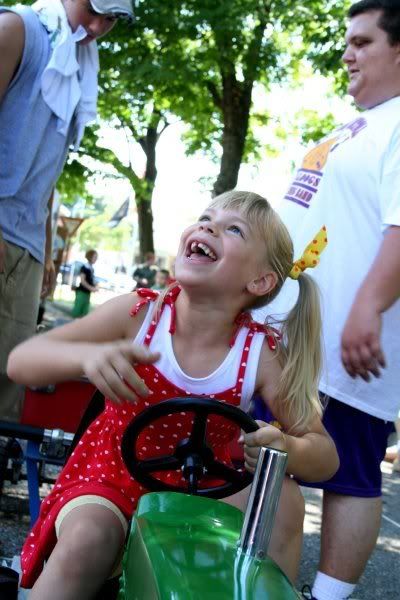 and even moreso, when she found out that out of 9, only 4 of them made a full pull. which meant, one more round to narrow down first, second and third place. so, one more round with 50 more pounds added in. she was the ONLY one out of those 4 that made a full pull with 250 lbs, which landed her this adorable little FIRST PLACE trophy and an invitation to compete in the Grand National Kiddie Tractor Pull in January at the Power Show Ohio.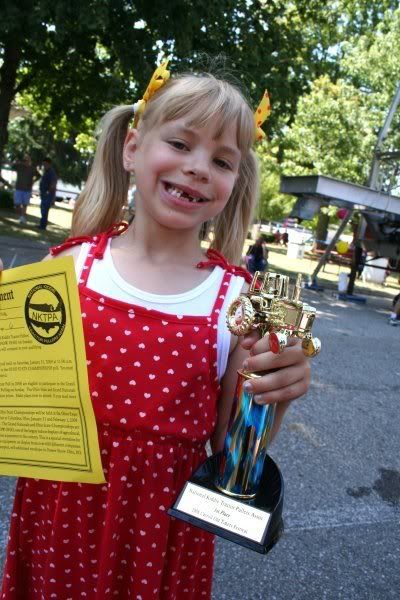 her first words after winning the trophy......."daddy, when we get home you can have your boring trophies back, because i got my own now."