have you seen the new Design It Drawers from Karen Foster Design hitting the shelves of your local scrapbook store yet!?
these drawers are the best invention yet in terms of an attractive product that is ready to be decorated.
in short:
they are FABULOUS!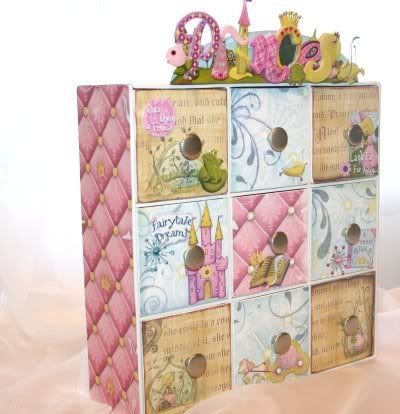 they are constructed of a super study cardboard-like base with a slick white paper overlay and come with 9 very classy brushed nickel knobs. the drawers are designed to be decorated with anything you can imagine including paper, spray paint, acrylic paint, glitter, etc.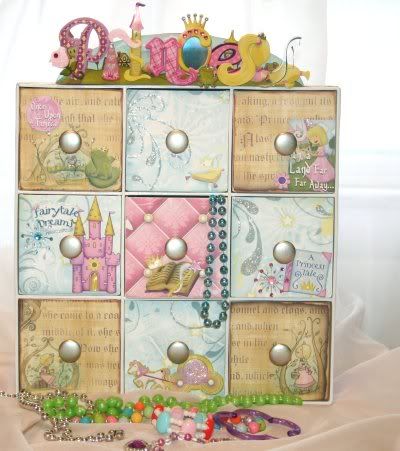 what's even better is you can use spray adhesive to adhere you items OR your everyday scrapbooking adhesive. in fact, i used my favorite
Tombow Mono Multi
without any wrinkling, and get this...without sanding the drawers down first!
(and no, they aren't paying me to promote their adhesive--i just LOVE it!)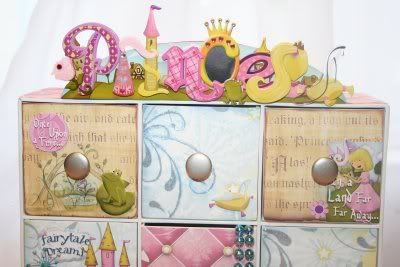 i decided to use
Karen Foster's Princess collection
to decorate mine
(hmm, i wonder why, LOL!)
and decorated it up for the girls to store their "dress-up" jewelry inside. i'm hoping this lessens the number of times i have to untangle said jewelry. hoping.
i still can't get over how adorable this stacked sentiment sticker is.......and how easy! seriously, i just pulled it off the transparency backing and plopped it on there! and what you can't see in the picture is that there is a reflective 'mirror' in the letter "C". so cool!
depending on what occassion your drawers are decorated for and whether or not you will be using the drawers often will depend on if you should consider using a spray sealant to keep your design from getting ruined through constant use.
so very awesome, in my opinion! oh........and the finished sized is 12x12, making it super easy to trim down papers to cover the drawers before installing the knobs!
conclusion:
an excellent product to consider and super fun to decorate! i finished this one in about 2-3 hours, but that included drying time for all the glitter glue i used to embellish every drawer, LOL!