i'm sooooooooo excited to tell you all about my party. ya know, my bertday party. it wasn't really ON my bertday. because my bertday was january 26th.
(right, mom?)
yeah. january 26th.
i turned 8. but mom was so busy with her 'zine work on my real bertday that i had to wait and wait for a looooooong time to have my party, actually.
it was worth the wait.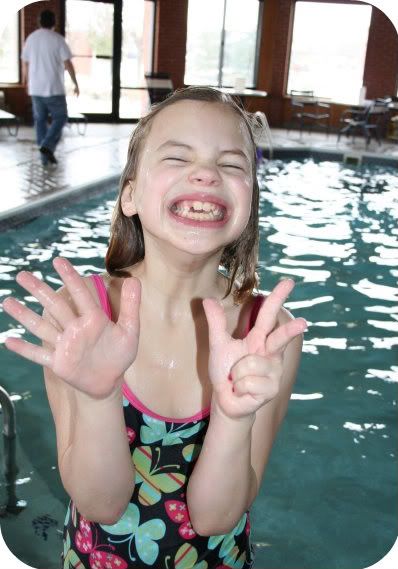 you'll never believe this! i had my party at the hotel you always stay at when you come to visit us. it was a swimming pool party. it was SO cool.
but, emma, she was just confused. *sigh* she was really sad that she didn't get to see you---she thinks you live there, since we only go there to swim when you have a room there. she couldn't understand just why you weren't there.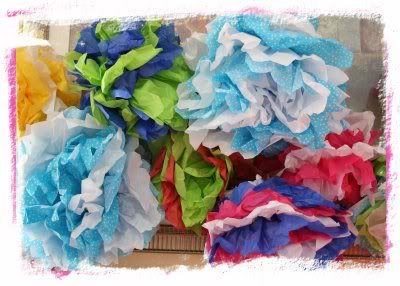 and you know that room down the hall, where they serve your breakfast? we had that whole room to ourselves to decorate and eat our food and have cake & open presents. *giggle*
mom used some of the same decorations that i helped her make for emma's bertday. it was so funny, cause mommy taped the inbisible strings to the ceiling for the pompoms and had them hanging all cute above the table with my cupcakes, but they kept falling down one by one in the cupcakes. hahhaahaa. it was making her fusterated.
she finally had to tape them to the picture hanging on the wall.
(but, shhhh, she really wasn't supposed to use tape)
i invited 8 friends from school, but only two of them could come. they are my two bestest friends, so it was still awesome.
this is my friend katelyn. and Grammy...ya know what? i get to go to katelyn's house this weekend!!!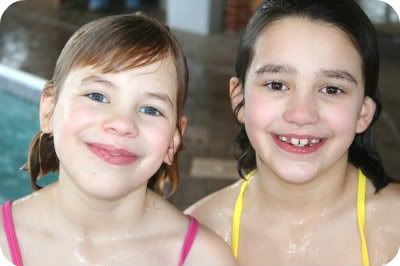 and this is my friend madelyn.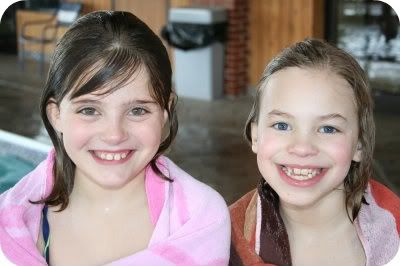 emma was there too.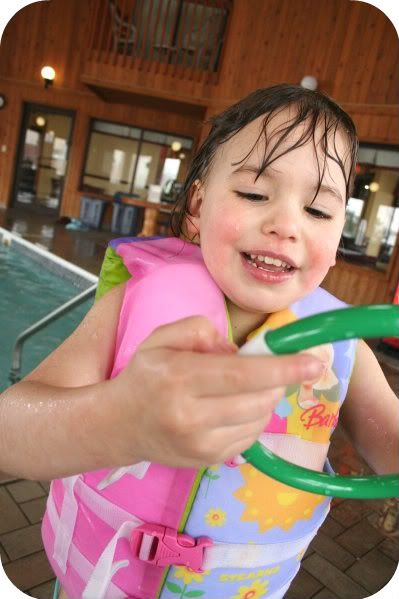 and grammy....guess what?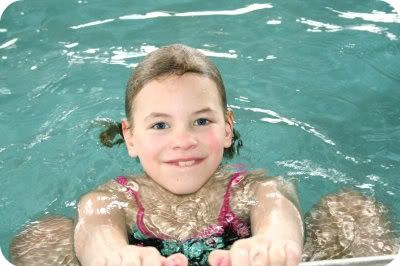 i can swim now without my life jacket!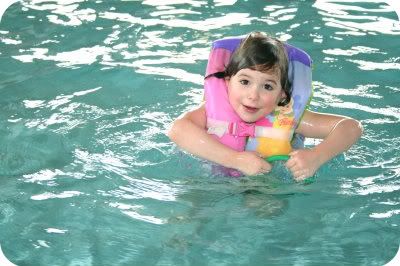 but, emma still wears hers. well, actually, she's wearing my old one. but that's okay because i don't need one anymore.
and guess what? i can go underwater without goggles! and.........guess what!?!!! i don't freak out when i get splashed in the face with water anymore! it's just easy. *shrugs shoulder*
we swam for a long while, then we took a break to fill our bellies with mommy's yummy food. we had carrots & dippy sauce, pretzels, meatbobs & lil' smokies with bbq. but i don't like meatbobs & smokies, so i had peanut butter & jelly with the crusts cut off.
after we ate, we got to have cupcakes & icecream. i love cupcakes way better than cake. chocolate cake with chocolate icing is my favorite cupcakes.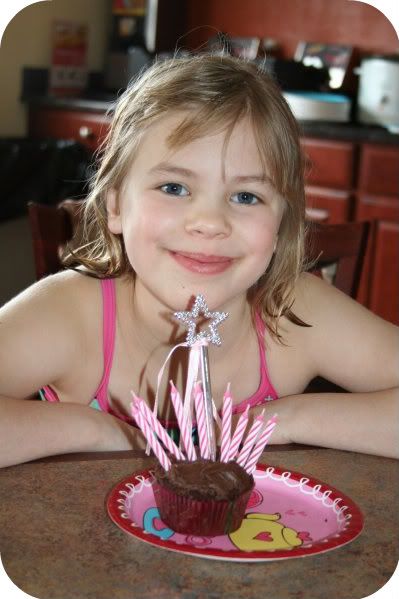 i put my own candles on my cake, then had to wait for someone to find a lighter to burn them on fire.
everyone sang happy bertday. i made a wish. but i can't tell you what i wished for...it's a secret and if i tell you it won't come real. then i blew out my candles.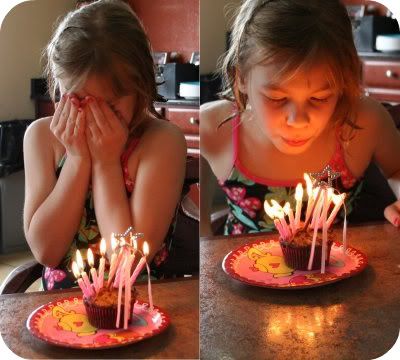 after that it was presents from my two friends & aunt suzi. it was SO cool because i already got presents on my real bertday, you know my real bertday, from mommy & daddy & grams & papa & little grandma.
katelyn brought me an Icecream Shoppe Playdoh toy.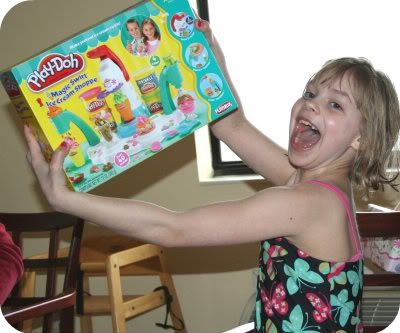 and lots of playdoh colors.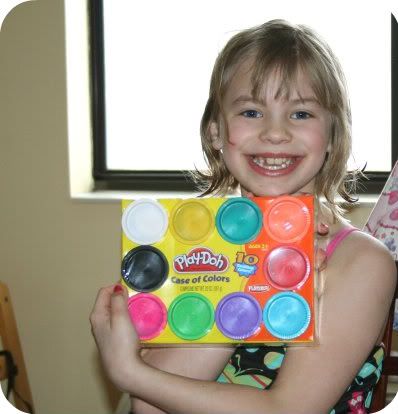 and madelyn brought me a Snuggie. i've been wanting a snuggie forevvvvver. and it's PINK!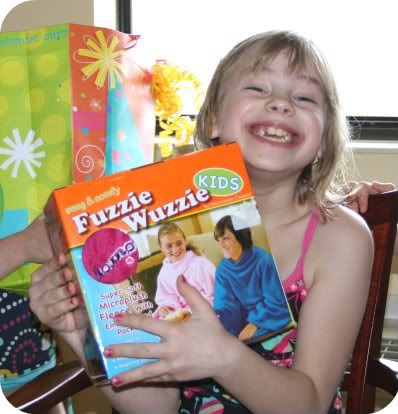 and suzi brought me SO much stuff. there was this awesome packet of 700 stickers!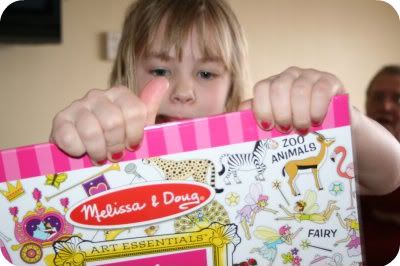 and a movie i've been begging for. will you watch it with me next time you visit, grammy? it's called Paul Blart Mall Cop, and it's SO hilarious.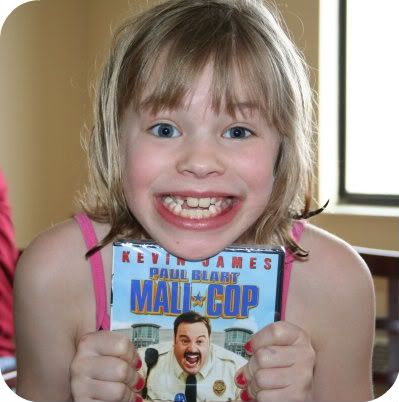 there's more.....tape & a new card game. i love tape. i can make lots of cool things with tape.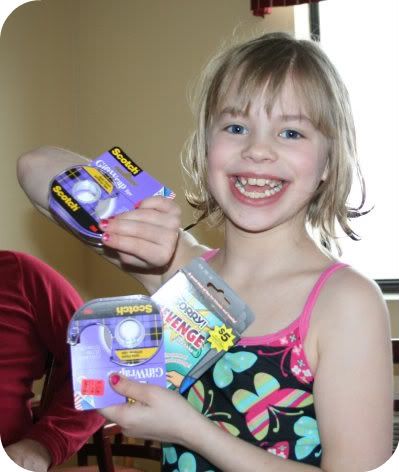 and glitter glue & window markers...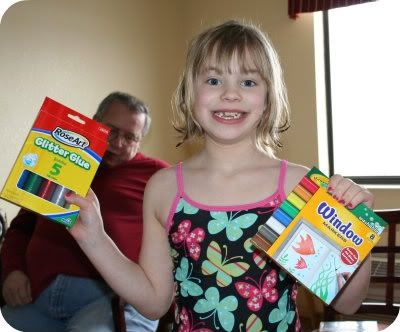 AND a whole new thing of ink for mommy's printer so i don't have to ask if i can print something every time. i told mommy she can't use my ink. hahhahaha. well, unless it's for scrapbooking or something.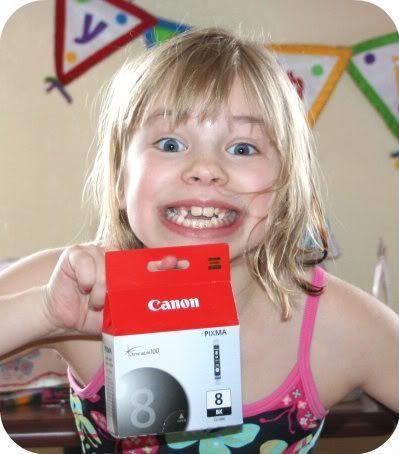 after that we went swimming AGAIN! it was SO cool.
oh, wait, i forgot to tell you something.
Grams & aunt Kristy were there too. you remember my Grams?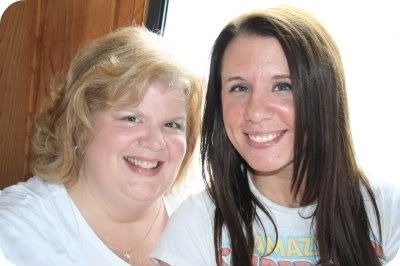 she's married to my mommy's daddy. you remember little papa?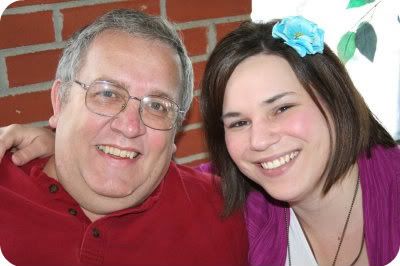 aunt suzi was there too.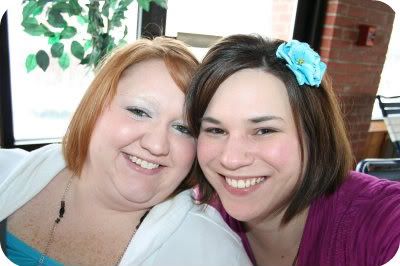 and daddy.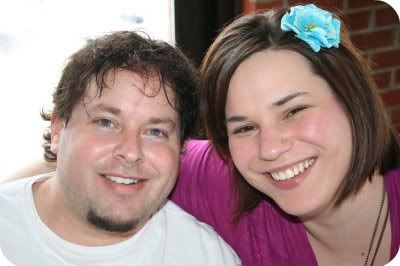 oh, and my Aunt Kristy has this cool hair now that she can put in to make it long like mommy's used to be. but then she can take it out too. so while me and katelyn and madelyn and emma were swimming, aunt kristy put it in mommy's hair.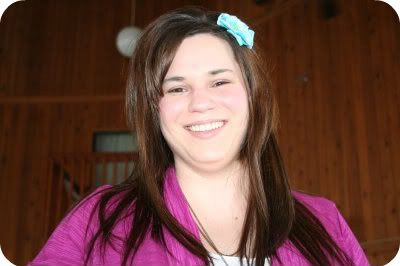 it made everyone laugh really a lot.
then Grams took a turn.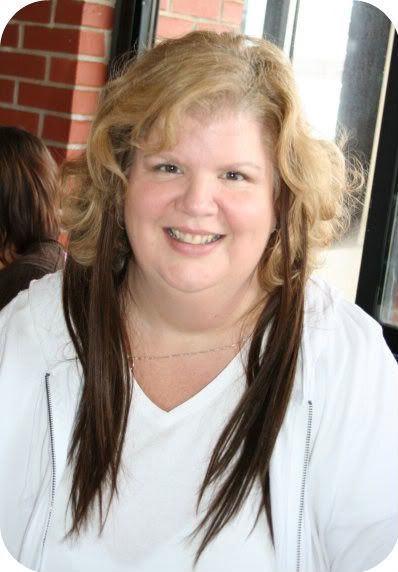 but then we dared daddy. hahahahhahaa.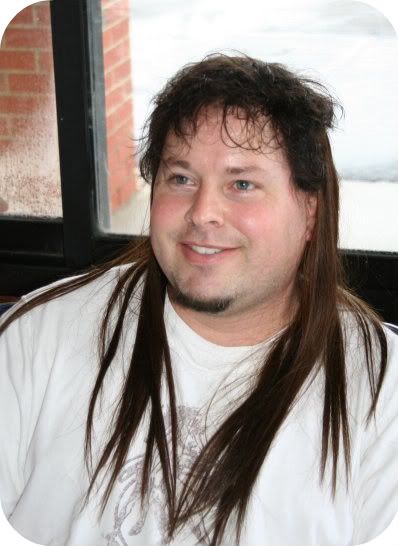 it was sooooooooo funny.
i'm sorry you couldn't come to my party Grammy at the Beach.


i love you, Ashlyn.