phew! what a week.
first of all....i have to thank God for getting me home safetly. seriously. the first hour and a half of the flight home was miserable with turbulence. blech. flying is definitely not my cup of tea.
going to vegas isn't all it is cracked up to be....unless you get a kick out of watching half nakely clad young woman fall all over the place as they walk the strip, literally pissing themselves because they are so drunk they don't have control over their bodily functions any longer and they really could careless who sees them this way.
the strip is a longer distance than it seems. just because you can see the logo of the hotel in sight doesn't mean it is only a few steps away.....the length of one block isn't anything like a block in downtown Columbus....much more like a mile long each. and, it really is a city that never sleeps. bright lights EVERY where, and noise abounds! definitely the coolest sight that i had the chance to see was the view out of my hotel window.
i stayed at caesar's palace in the newly remodeled atrium rooms on the 29th floor and my room overlooked the dancing bellagio fountains. gorgeous. the fountains put on an incredibly correographed show every 15 minutes from 6-midnight. the force of the water is so incredibly powerful and beautiful with all of the nightlight reflecting off the water. probably one of the coolest attractions on the strip. oh and the best eats....Cozymel's...across from the Tuscany. yummmy.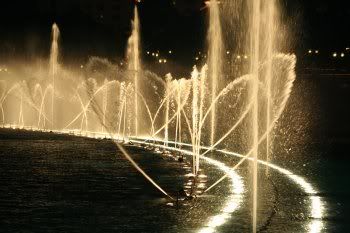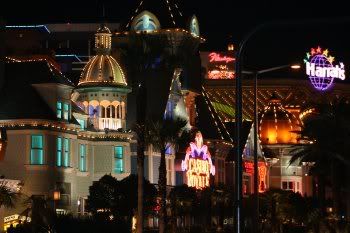 the CHA show (Craft & Hobby Association) was overwhelming---as always. the new product for the upcoming months is incredibly drool-worthy and so innovative. being involved in this industry is never boring! i had a ton of fun teaching make-n-takes at the Daisy D's booth even though i was battling a very scratchy/raw throat from the super dry air and abundance of cigarette smoke in vegas.
definitely had a "freak-out" moment on the first day of the show....
while i was teaching make-n-takes...make-n-takes for those of you not familiar with the industry is an opportunity for the buyers/retailers to have a hands on experience with the new product to make a fun little project to take back to their store for display to show their customers what they can do with the product. they stop at the table and get a kit with all the materials they need to complete the project and i walk them through it step by step. i had groups of 8-10 people at a time with lines of 4 people deep behind each person already at the table....i was asked for a catalog. so i briefly stepped away from the make-n-take table to snatch a catalog for the woman and when i turned around to walk back to the make-n-take table, i caught a glimpse of this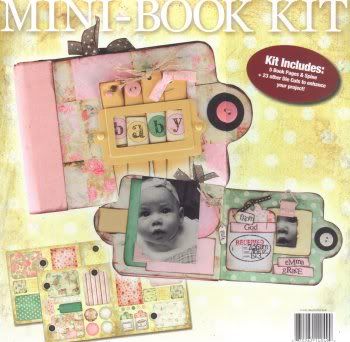 oh. my. heck. my baby girl and my artwork is on the product package for Daisy D's Lullaby Collection album kit! talk about AWESOME!! such a thrill to see, but weird at the same time. my baby girl is going to be on display at every scrapbook store worldwide that decides to order the product! (grinning from ear to ear). she's famous...haahaaa!
here is is in the catalog....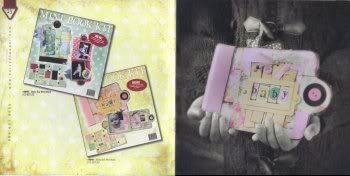 also got to meet my dear friend sherry in person for the first time while at the show! such a doll. we first met while designing for the same online design team and continued to grow our friendship even after i resigned. we've emailed back and forth and chatted on the phone for quite some time now, but being from texas, i never had the chance to meet her in person until now. she is a fabulous designer....very artsy...and has talent out the wazooooo along with an incredibly sweet personality. i was thrilled to get to see her artwork and her own set of stamps through the Leave Memories booth (a rubber stamping company).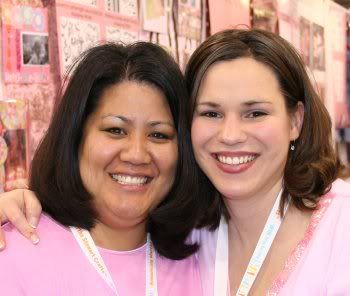 other fun times were just being able to be in the same place at the same time of all the other designers that i've come to know through various design teams and message boards. always a thrill to get to chat with the beautiful and talented pamela lambie and laura kennedy from pinecone and all of the girls from 2peas in a bucket (an online community of scrapbookers)---there were approx 300 of us at the dinner, but i'm going to try and list all of the girls i had an opportunity to chat with while there....but i'm sure i'll forget names: kelli crowe, tracy kyle, wendy mckeehan, tia bennett, christine brown, sue thomas, monica, linda harrison, kathleen summers, sherry cartwright, pamela smart, alana, ginger mcswain, barb hogan, vicki boutin, cindy smith, melanie douthit, cindy curtis, karen day, erin harrington, heather preckel, kim kesti, kim mattina, bekzilla, carol banks, cheryl manz, pooop....i know i'm forgetting people. anywho...we all gathered for a designer dinner on tuesday evening at the Buffet at the Hilton and it was a blast! finally getting to put a face with a name. i had another awesome opportunity to meet with christine brown and sue thomas---both totally sweethearts, so REAL. love that.
i could go on and on about the days in vegas. wonderful people at daisy ds, lots of fun, little sleep, lots of hard work and now i'm back to the grind. cleaning house, changing poopy diapers, cleaning up spilled milk, mediating fights over toys....life as i know it! fun, fun!