seems like that's all i do lately is play catch-up.
cleaning up one mess to move to the next.
organizing, purging, cleaning.....blah, blah, blah.
craziness i tell ya. i really need to find a way to make housework not seem so mundane.
anywho...
where have i been the past 3 weeks you say?
well, i've been almost to the west coast and back.....literally.
okay, let's back up a bit. i just can't resist sharing these photos of miss emma.
just before i left for chicago.......you knew i was going to chicago right......okay, back on track---i had the girls out for the afternoon and it was sweltering HOT. like 100 degrees HOT. so i decided to treat them to a kiddie cone with sprinkles at Dairy Queen. first of all, emma had never in her short life seen a cone with sprinkles. she stared at it and stared back at me with this distressed look on her face as if to say "what am i supposed to do with this?"
cute.
anywho.......it had been a long day and we went through the drive through for the cones. she was already stripped to her diaper so i had no problem taking it for the road. so on the way home all is good, kiddos are content, i am actually enjoying listening to some 104.9 (our local contemporary christian radio) without the youngens complaining that it wasn't barney or jojo. oh, should mention that for whatever reason i have my camera with me. so i look back, while first stopping at a red light, and see this: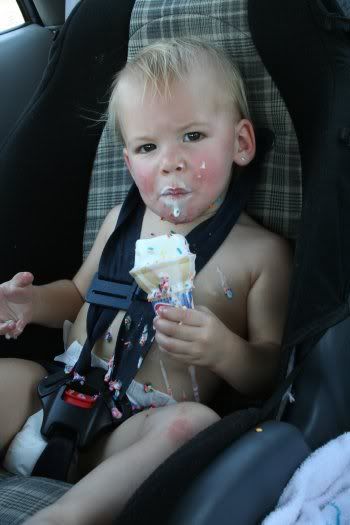 this red light is rather long, mind you. so about 10 seconds later, i look back and see this: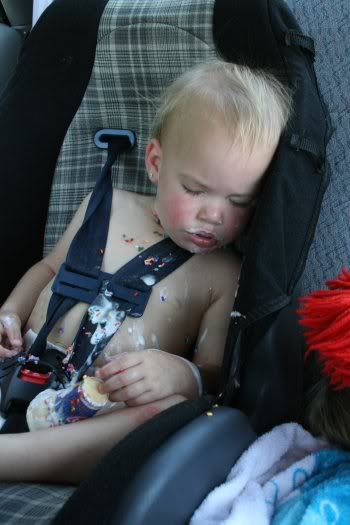 DUDE. the girl fell-asleep, mid-lick eating a kiddie cone with sprinkles. WHAT????
so moving along....
one morning ashlyn decided to be a sleepy head and i was having fun with emma. she had such a cute little personality being all by herself without anyone else to steal the attention away. so i grabbed my camera and snapped a picture. i love this shot.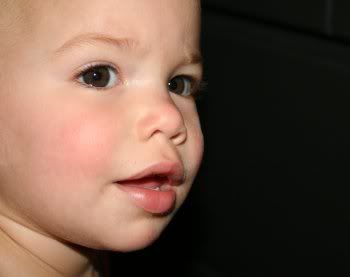 had the same sort of little moment with ashlyn during one of emma's naptimes and was thrilled to finally get a candid shot of her. a true expression of happiness. usually she sees the camera and breaks out the cheesey grin. so glad she went along with it this time.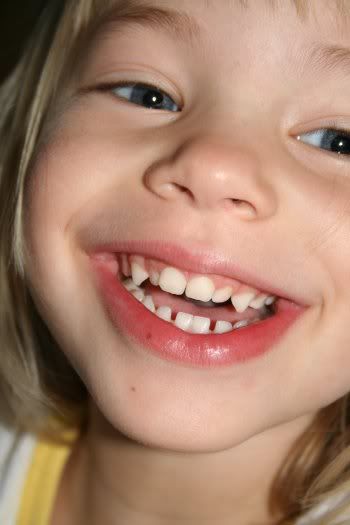 okay, onto the trips.
chicago was first.
left on a thursday evening. checked in at 630ish--flight on time. dad, connie and the girls took me to the airport. we sat outside of security for a good 30 minutes before i went back to my gate. when it was time to go, ashlyn had a total meltdown. screamed bloody murder. first time ever experiencing her having a meltdown while leaving for a trip. generally she would whine a bit, but nothing like this. they had to pry her away from my neck and said she kicked and screamed the entire way out of the airport to the car. and get this, not once, NOT once, did anyone stop and question them. not once did it even occur to any staff that this girl in hysterics, kicking and screaming "i want my mommy", even belonged to them. she could have been in the process of being kidnapped and no one stopped to question it. that bothers me.
so i compose myself and walk through security, get back to my gate and then i'm told that my flight is delayed for 3 hours. WHAT??? ended up being 11:30pm before i got to chicago due to weather.
so, not much to share about chicago that anyone reading would care to know. i went for the big Scrapbooking Trade Show that is held 3 times a year (january, july, and october). i did get to go into the city one night and ended up at Navy Pier with a group of friends. that was a cool experience at night with all the lights and street shows. the best thing about the pier was this fire dancing show......absolutely jaw-dropping amazing performers---totally free, performing on the boardwarlk. here are my favorite shots from the pier.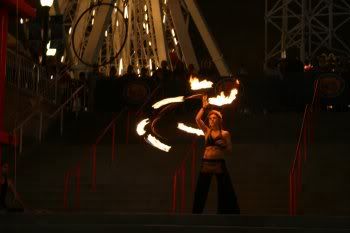 partial chicago skyline reflecting into the water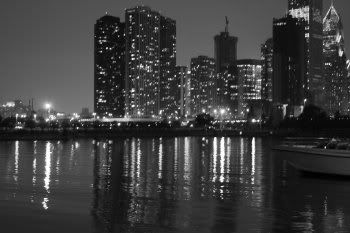 another of the lights/ferriswheel (really something you have to see/experience---a picture doesn't capture it at all)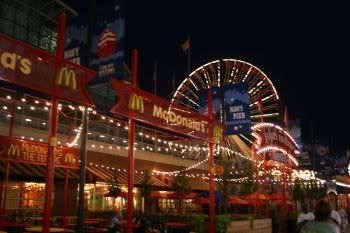 okay, so a cool picture i snapped while waiting for the passengers to board on the return flight home. kinda a photo montage effect without all the work. still deciding what i can do with this one.
so i landed back home around midnight saturday night, spent sunday at King's Island with the family and a bunch of friends. was home monday, tuesday, wednesday----life back to normal. another trip just around the corner that was on one minute, off the next, and back on again. so late wednesday i got confirmation i was leaving thursday morning to utah.
whisked away to utah, all expenses paid and pampered to death by an unnamed business to do unnamed business (scrapbook related). i was picked up from the airport and taken immediately to lunch at a thai restaurant. yum.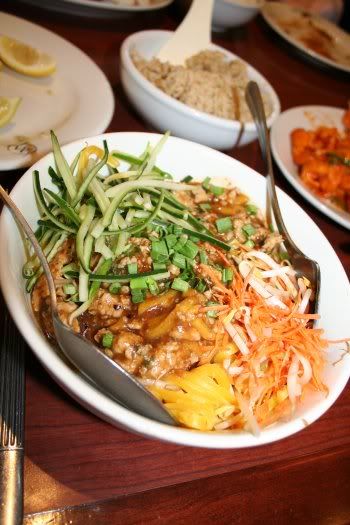 spent time raiding the warehouse to get anything and everything i could ever dream of needing that they produce---then they mailed it to me, personal tour of Temple Square with photo opps of the mormon temple---gorgeous by the way, put up in an up-scale timeshare condo in Park City (the area reminded me of Gatlinburg, TN), business meetings in my comfy pj's, fancy dinners, shopping, $120 worth of chocolate from Rocky Mountain, more business meetings, surfing races on luggage carts in the condo parking lot, battle wounds--LOL!, just a whole lot of fun getting to know a new friend and reconnecting with an old one and deepening the business relationship with one fantastic company!
anywho.....i knew it was going to be a good trip from the beginning. here was my view from the airplane on the way over to utah.
the mormon temple. it was hard to get a good picture just due to the hugeness of this structure. it really looked out of place.....almost like it was a castle transplanted straight from europe.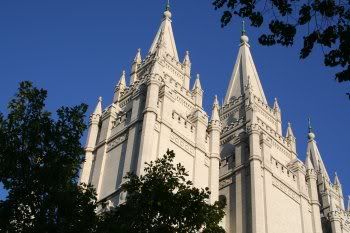 oh, and this is how ashlyn greeted me at the airport baggage claim. she's gonna hate me one day for taking this photo, bwahaahaahaaaa.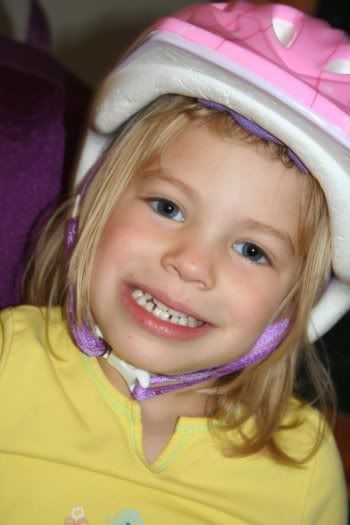 so after coming home from 2 business trips in 10 days, i was given a nice welcome back to reality which you've already read a small snippet of in my last post----the smeared poo.
niiiiiiiiiiiice.