created for the
September Newsletter
at Scrapsupply.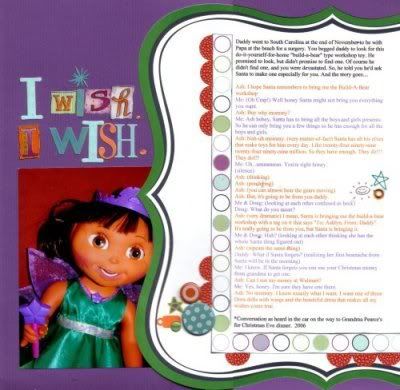 Christmas Eve, 2006
In the car on the way to Grandma Pearce's for dinner.
a little background. doug went to south carolina at the end of november to be with his dad for a surgery. ashlyn begged doug to look for this do-it-yourself-for-home "build-a-bear" type workshop toy. he promised to look, but didn't promise to find one. of course he didn't find one, and she was devastated. so he told her he'd ask santa to make one especially for her. and the story goes....
Ash: I hope santa remembers to bring me the Build-A-Bear workshop

Me: (Oh Crap!) Well honey Santa might not bring you everything you want.

Ash: Buy why mommy?

Me: Ash honey, santa has to bring all the boys and girls presents. so he can only bring you a few
things so he has enough for all the boys and girls.

Ash: Nah-uh mommy. (very matter-of-fact) Santa has all his elves that make toys for him every day. Like twenty-four ninety-nine twenty-four ninety-nine million. so they have enough. they do!!! they do!!!

Me: Uh....ummmmm. you're right honey.
(silence)

Ash: (thinking)
Ash: (pondering)
Ash: (you can almost hear the gears moving)
Ash: But, it's going to be from you daddy.

Me & Doug: (looking at each other confused as heck)
Doug: What do you mean?

Ash: (very dramatic) i mean, santa is bringing me the build-a-bear workshop with a tag on it that says "To: Ashlyn, From: Daddy". it's really going to be from you, but santa is bringing it.

Me & Doug: Huh? (looking at each other thinking she has the whole santa thing figured out)

Ash: (repeats the same thing)

Daddy: what if santa forgets? (realizing her first heartache from santa will be in the morning)
Me: i know. if santa forgets you can use your Christmas money fom grandma to get one.
Ash: can i use my money at walmart?
Me: yes, honey. i'm sure they have one there.
Ash: no mommy. i know exactly what i want. i want one of those dora dolls with wings and the beautiful dress that makes all my wishes come true.