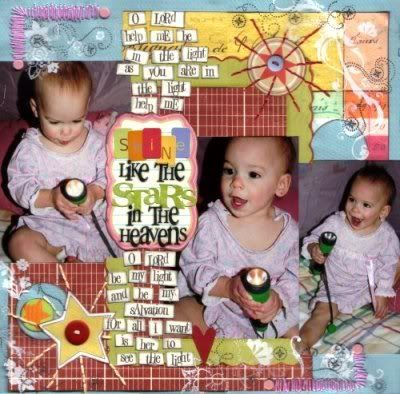 journaling on this one is from
this song
and i personalized it a bit. it reads:
Oh Lord, help me be in the light as you are in the light, help me shine like the stars in the heavens, Oh Lord, be my light and be my salvation, for all i want is her to see the light.
and here's another one.......using lyrics from
this group
(sorry can't find a link to this song right quick.)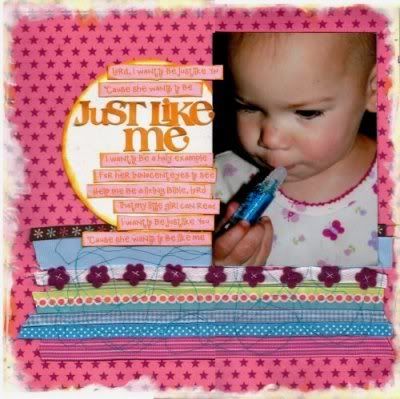 again, i changed the lyrics up a bit to be appropriate:
Lord i wanna be just like you, 'cause she wants to be just like me. i wanna be a holy example for her innocent eyes to see. help me be a living Bible Lord, that my little girl can read. i wanna be just like you, 'cause she wants to be like me.
i love taking everyday photos and adding an inspiring sentiment or life lesson with an appropriate photo rather than just saying........this is emma, she snuck into my makeup, or this is emma playing with a flashlight.
i'm soooo incredibly inspired by music. it seems that music directs most of my thoughts. there is constantly an association made in my brain between events/happenings and music that fits the situation. my brain is it's own radio station. seriously. totally weirds me out sometimes.
anywho.
and this is making me giddy like a little school girl.
i got to create artwork for this ad that is in September's issue of Creating Keepsakes Magazine(available in print now)!
ashlyn grinned from ear to ear when i picked it up off the rack at hobby lobby to show her. her reaction......"*gasp* *giggle, giggle* that's the coolest, mommy."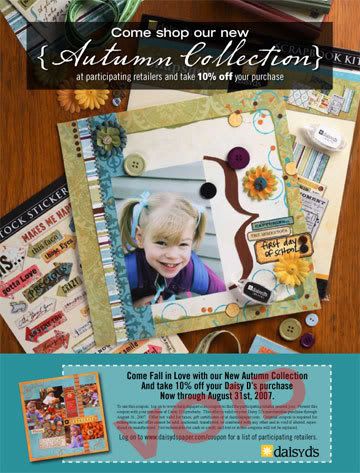 i'm so lucky to work for daisy d's. they've got some of the coolest products available to the scrapbooker today. they're designs are always so classic and timeless. and this month, i've got a few projects up on their site being featured.
Check it Out
okay, i'm outta here. that was entirely too much blogging for not blogging this week and just layout sharing. ha. never short-winded, am i? nope.