this week, i don't feel like blogging a whole lot. yesterday i touched base with my family doctor and my blood pressure was 121/100. holy crap. and they don't seem to be the least bit concerned. i'll be seeing my cardiologist on thursday. let's hope he will have a better game plan than just ignorance.
anywho. so why am i blogging when i don't feel like it? well, i've been updating regularly and don't want to get out of the habit.
so instead of thoughtful/informative posts this week, i'll flood you with some layouts i've made over the last year, but never shared on here.
sound good?
great. i thought you'd like that.
do you remember
this story
? or
this one?
yep. it's forever in the
history
scrapbook. she's gonna kill me someday. heh, heh.
but, i at least did it tastefully.....you've got to open up the photo flap on the page to reveal all the extra photos and the whole story.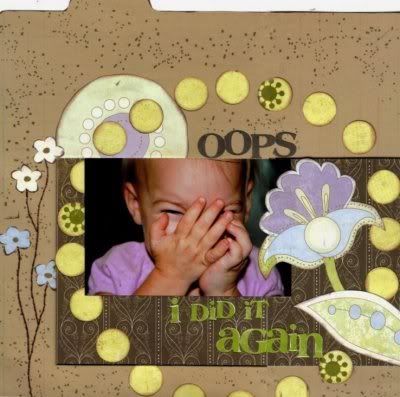 inside....