as promised (a few days late)...
big grammy's memorial garden. grammy at the beach visited for a week after mom died and helped do some long overdue chores in the yard. so now my flower garden is looking fabulous! and she planted the perinnials that she sent to the funeral home.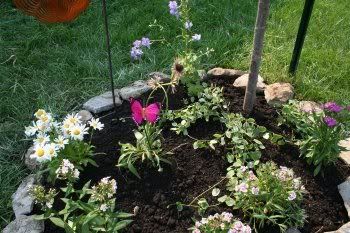 ash, making progress......overcoming her fear of the monkey bars. she can now make it to the fourth rung before she gets scared. all this after little papa took her to an old fashioned park by his house.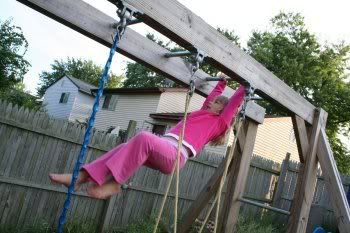 my little mini me starting to be oh so grown up.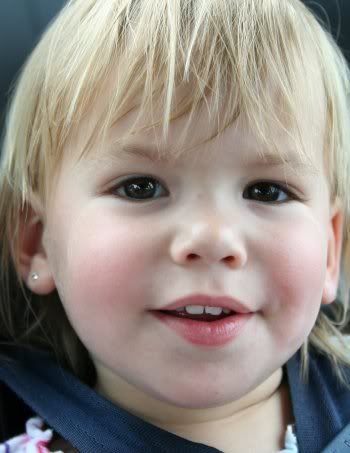 ash, making even more progress! instead of freaking out for 30 minutes over the sight of a bug, she is now coaching little sis "it's okay emma, it's just a cricket. it won't hurt you emma. it's okay."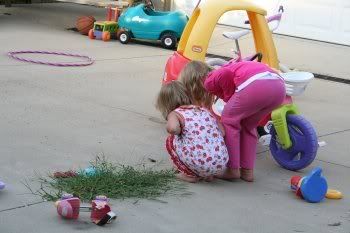 ash looking extra cute. she's become quite specific on how she wants her hair fixed. "i want 2 piggy tails momma. one with a red pony, one with a blue pony, on each side like this (as she tries to show me), but not too high 'cause it makes the hairs down here prickly and hurted. but, then i want the piggies braided with pink bows at the bottoms with my crown bow on too." sure, babe.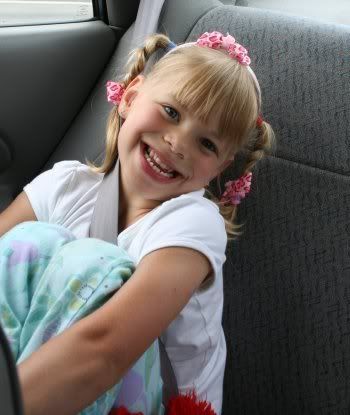 my other cutie patootie. taking a break from getting sprayed by the hose "sprinkler" by big papa.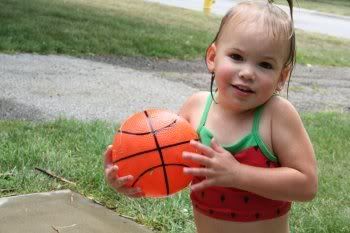 typical ashlyn.
and ashlyn making even MORE progress! woooooohoooooooo! can i safely say that therapy is starting to help her? look how close that face is to the water! and another WOW. 3 nights ago, she asked to take a shower. after doug explained to her that the shower sprays water in her face she said "duh daddy, i know that. but i still want to take a shower." and she did.
emma is constantly begging little papa to feed the fishies. whether inside in the tank or outside in the pond. and no, i'm not a super freak that puts my kid in a life jacket and water wings just to feed the fish in the pond. hahaahaaa. she was swimming and got out of the pool wanting to feed the fish.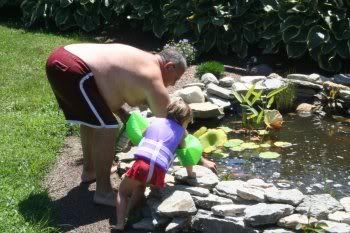 and some lovin' from my littles.
em loves to pick the miniature daisy-like weeds by the mailbox and give them to me.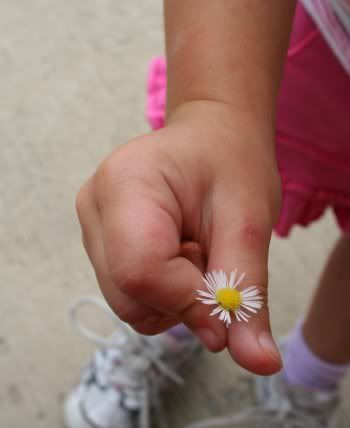 and ash.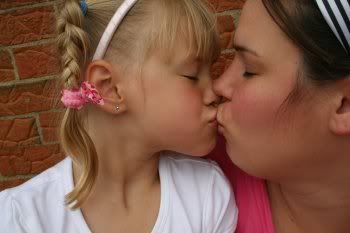 heading out in a bit with suzi to find some cool backdrops for a photo shoot.
until next time........enjoy.