this is the site i get to see every (other) thursday.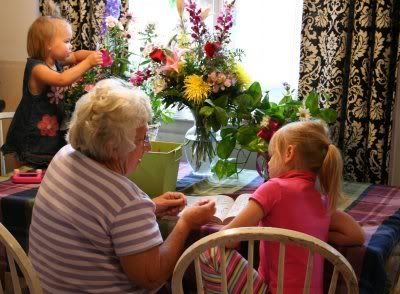 who cares.....that you can see evidence of our craftyness (messy toddler paw prints) on the rungs of the chairs. who cares....that you can see i *still* haven't stripped the remaining wallpaper. who cares....that the "tablecloth" is really a cloth shower curtain being recycled as one. who cares...that the lighting isn't just so. who cares....that emma is in her own little world.
not me.
this picture totally makes me smile.
candid at it's best.
every other thursday, we spend our morning hussling and bustling to get things done and get out the door to pick grandma up just before the lunch bell. we snatch her from her abode and bring her back to our headquarters from some lunch before ashlyn and i leave. sometimes grandma treats the girls to some artery clogging food from the golden arches....like fry-fries and a burger or any other place that gives me an excuse for not cooking. ashlyn tries to talk her into cici's pizza buffet every time.
after lunch we putz around and giggle with the girls for short while before ash and i head to children's hospital for her therapy. grandma stays and hangs out with emma while we go. em generally takes a little snooze while we're gone and grandma spoils me rotten and folds a bit of my never-ending pile of laundered clothes. such a treat.
sometimes she stays for dinner. sometimes not. sometimes we get brave and run errands or shop for her groceries with both girls in town. sometimes we take flowers to grandpa's grave. today, we'll run to hobby lobby---grandma says so. i'm not arguing. love me some hobby lobby.
she doesn't skip a beat. and i love it.
just another typical thursday around here.
and as promised some artwork sharing.......
here's one that was published in my 2nd book "Pens and needles".
(photography by: Ashlyn Willis, artwork by me)
journaling reads:
there is a lifetime of stories in the lines on her face.
there is knowledge and wisdom in her eyes.
there is strength in her embrace and love in her touch,
and grace in her every move. ----tina cockburn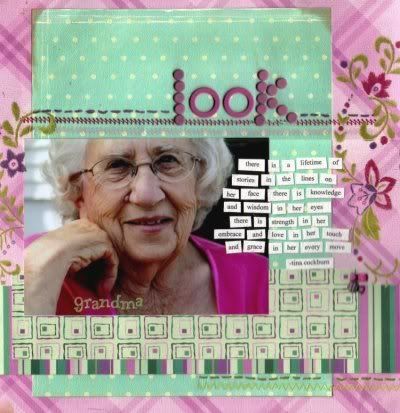 i'll post more over the next few days---along with some of ashlyn's drawings that i have yet to scan. hang tight.