if you have a breadmachine, you won't want to miss out making this recipe! it was passed down to me years ago from a dear friend who shares an incredible love of cooking. you'll have to forgive the half-empty pan...the kiddos couldn't wait another second for me to take a picture. what can i say. can't blame them....cause they are DELICIOUS!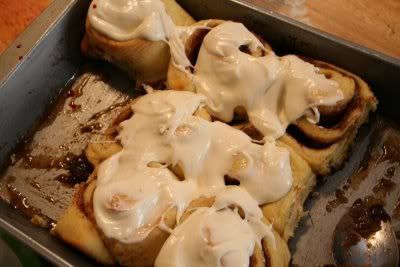 For Dough:
4 Tbsp melted butter
4 Tbsp lukewarm water
1 cup of milk, warmed in the microwave to take the chill off
1 egg beaten
4 cups bread flour
1/2 of a 3.4oz box of INSTANT vanilla pudding
1 Tbsp sugar
1/2 tsp salt
2 1/2 tsp active dry yeast
For Filling:
1/2 cup softened butter
1 cup brown sugar
2 tsp cinnamon
For Frosting:
4oz. cream cheese (softened)
1/4 cup butter (softened)
1 1/2 cups powdered sugar
1/2 tsp vanilla
1 1/2 tsp milk
Directions for Dough:
Place ingredients in bread machine in the order listed. Set machine on DOUGH CYCLE. After complete, remove from machine to a floured surface and allow to rest 15 minutes. Then, roll out to approx 17 x 10 rectangle.
Directions for Filling and Slicing:
Mix butter, brown sugar and cinnamon together with a fork until you get a spreadable consistency. Roll tightly starting at one long end toward the other. Pinch edges at the ends. Using a 14" string of dental floss, slide under the roll and criss-cross ends while pulling to slice rolled dough. Slice into 1/2" slices (larger if a larger portion is desired) *i slice mine into 12 portions. Place in a 9x13 GREASED pan.
Cover and let rise until DOUBLED in size (approx. 45 min)
Bake at 350" for 15-20 min or until golden brown. Do NOT overbake.
Directions for Frosting:
Combine all ingredients into a medium bowl. Using a hand-mixer, mix on med/high speed until it resembles a spreadable frosting.
Spread on very warm rolls. Enjoy! Note: rolls can be reheated in microwave for 20seconds and taste like they are fresh from the oven.
a few little side notes:
*you should be aware the whole process takes about 3 hours start to finish. but there is A LOT of down-time waiting on the next step.
10 min. putting ingredients in breadpan.
1:20 on dough cycle
15 min. dough testing time
10 min. mixing filling, rolling dough, spreading filling, slicing the roll
45 min. resting and rising to double
20 min. baking
*i make mine the night before, including baking them. and nuke them in the microwave in the morning, then frost them.
*you'll want to refrigerate leftovers that are already frosted
*you can go all the way to the point of placing them in the pan and instead of allowing them to double in size, you can put them in the refrigerator and take them out the next morning and all them to come to room temp and double in size, then bake them.
*after eating one of these, you'll never want to spend another dime at the Cinnabon store----cause these are soooooooo much better!!!