a BIG 'ol MESS! welcome to my life.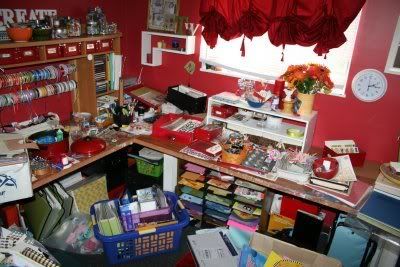 i'm learning to embrace my lack of organization lately. but there comes a point where it starts wear thin on my nerves. it's almost to that point. we've had a busy month worth of traveling and house guests----a much needed and welcomed break, but now it's time to get back to the grind.
so, there's nothing on the agenda today except getting this room cleaned up. it's bad. i haven't been in there to create anything in over a month simply because i didn't have the time to clean it up first. so i've been doing my assignments at the kitchen table and countertop.
trust me, you don't want to see a picture of my kitchen right now. there are baskets and boxes of product everywhere---i mean on every surface available. floor. countertop. dinner table. everywhere. i finally have it all condensed into laundry baskets to carry down into the studio, but i can't do that until i get a space cleared in the studio to put them on the floor.
ahhhhh. the story of my life. organized chaos. such a messy, thrilling life i lead. and i like it.
happy monday!