suzi's favorite.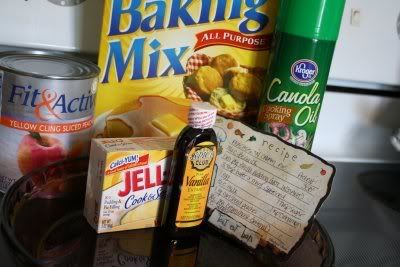 Preheat Oven 350 degrees.
Gather your ingredients....
Pie:
3/4 cup Bisquick
1 small pkg vanilla pudding Cook N Serve (NOT instant)
3 Tbsp margarine, softened
1 egg
1/2 cup milk
1 28oz can sliced peaches
1, 8oz pkg cream cheese, softened
1/2 cup sugar
5Tbsp reserved peach juice
Topping:
1 Tbsp sugar
1 tsp cinnamon
In a medium bowl, beat Bisquick, dry pudding mix, butter, egg and milk. Pour into a GREASED 9 or 10" pie dish. (it will be runny) Drain peaches, RESERVING 5 Tbsp. of the peach juice. Set juice aside for later. Place peach slices over the Bisquick mixture in the pie pan.
it should look like this....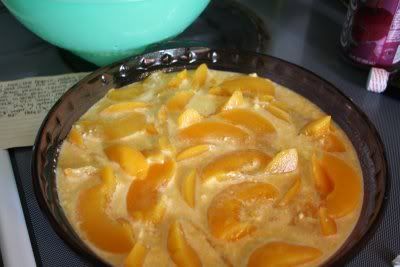 then, in a small bowl, mix the softened cream cheese, 1/2 cup sugar and 3-5 Tbsp of peach juice using a hand mixer on medium speed. Drop by spoonfuls over peaches.
it should look like this...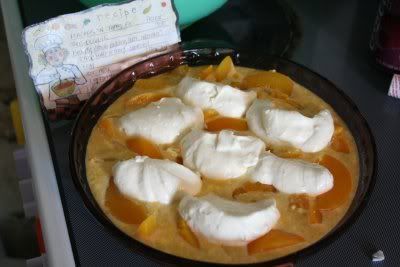 then, in a small dish, mix 1 Tbsp sugar with 1 tsp cinnamon. Spread cream cheese mixture evenly using the back of a spoon. Sprinkle generously with sugar and spice.
it should look like this....
Bake at 350 degrees for 30 - 35 minutes. I tend to let mine go more toward the 35 minute range to allow it to set up a bit more. Remove to cooling rack to cool before serving. Best when served when it has just a hint of warmness left. Store leftovers covered in refrigerator. Reheat for 20 seconds in microwave to take the chill off----although i think it is just as tasty cold.
ENJOY!