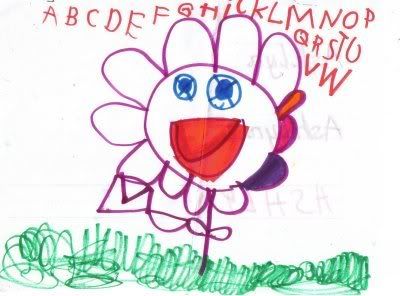 picture above, by ashlyn. every day at school they practice writing their name, then flip the paper over and draw a picture on the back. so i have quite a collection of drawings. just wish she didn't wad them up trying to cram them into her backpack.
what happened to "xyz"? must of run out of time.
need that happy art today to help keep the tears away.
this month has been a rough month emotionally.
feeling rather sluggish today after doing a major overhaul of the studio AND the playroom over the weekend. oh, and painting the hallway
*yawn*. i'm tired.
watched No Reservations over the weekend. that little abigail breslin it a great actress. good movie, but wished i hadn't watched. don't recommend it if you've lost someone close to you recently.
2 days on, 1 off, 2 days on.......ash's preschool schedule this week.
the funniest thing emma says lately "ewwww, that's disgusting." i laugh every time. and sometimes we ask her to say it just to hear it and have a little chuckle.
lots on the chore list today. folding laundry is top 'o the list.
started the looooong process of backing up all 2007 photos onto CDs last night. still don't own an external harddrive. someday i'll get with the techno age.
studio storage idea pictures coming later this week (for those that asked)
clean desk is already on it's way to being a mess again. that's a good thing.
today would have been mom's 51st birthday. miss her so much.
be back later with some happy thoughts.