first of all.........my new favorite quote....
"life secret=most things in life are worthy of making the laundry folding wait." --stacey kingman.

so very true stacey, so very true. :o)
as i've talked to many people over the past few days, it seems that i'm not alone in the sometimes overwhelming struggle to get laundry folded and put away. so when it gets to the point of no return, this is what i do:
STEP 1: gather and dump.
all the clean laundry is taken to a central location, usually the livingroom----this time it was the playroom---and dumped in one huge pile. ash was at school and emma was home with me. shhhhh......i used pbskids.org as a babysitter for 20 minutes while took back control of the laundry situation.
STEP 2: line up baskets.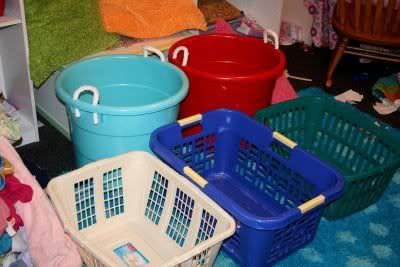 one basket for each of us (4), one for towels, one for sheets (not shown), one for clothes needing hung up (not shown)
STEP 3: start sorting.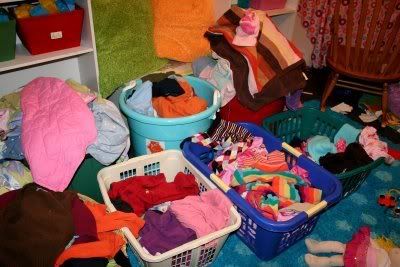 people usually look at me like i'm crazy when i suggest doing laundry like this when they have an overwhelming amount. but for me it works. reason being: since i work part-time outside the home AND work from home designing, i have to use my time wisely. when i sort by person, then i can take 5 minutes here or 10 minutes there to fold one basket and i know that every single thing in that basket gets put away in one location. if i fold a load right out of the dryer, it takes double the time to put away because i have 5 different places to put stuff away. it works for me.
STEP 4: multi task.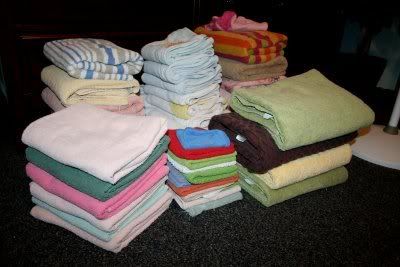 use chunks of time to fold here and there. i folded these sitting in the bathroom while i was supervising emma taking a bath. then i folded 3 more baskets while watching american idol----the only thing i watch on tv.
i'm soooooo rooting for david.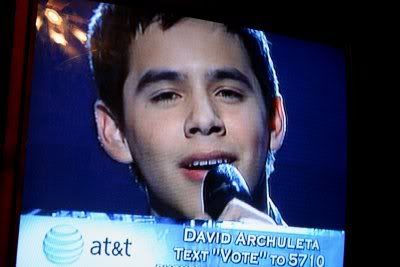 this my friends is why i refer to my life as a constant organized chaos. but it's my life, and i LOVE it!