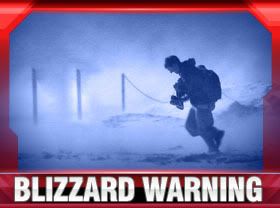 yep. it's been snowing since 9am, with a few hour break during the dinner hours and it's expected to pick up heavily overnight dumping a total of 10-14" by the end of it! yes!!!!!!! i love snow as long as i don't have to drive in it. i should mention that it was 63 earlier in the week. crazy. crazy.
so, anywho. it's perfect timing for this blizzard to come through during the start of the weekend. and it gives me a good excuse to rest and relax this weekend with the family watching movies, playing games, baking cookies and getting creative.
it isn't a secret that i'm often inspired by the
Happenings in Tormville
. torm has a little weekly project she calls 'Sew Saturday'. she makes time every saturday to do a little sewing, mending, quilting, embrodiery, or what not. and i LOVE that idea. for me, i'm always in the 'house needs to be clean or laundry needs done' mindset before i can sit an enjoy scrapbooking or sewing or what not. and in the off chance that everything is caught up, i usually spend that extra time marking something off my "tania do" list that is forever and a day long with little fix-it projects around the house.
but i'm learning more and more that i feel so much better if i have balance, let a few things go until the next day and sit down and fuel my creative spirit. i want to make things just for the sake of experimenting, something that's not an assignment, not for work, and not neccessarily scrapbooking.
so i'm on a mission to do something crafty/creative every weekend and it looks like this weekend is shaping up to be a pretty darn good weekend to start.
i share the progress later!