MISSON: Payback.
so, tuesday night well after everyone had left the office for the day, doug and his cohort in crime----miss ashlyn---left the house with their stash of shredded cardstock confetti, two boxes of cling wrap that's been sitting around the house from a prank two years ago, and whole lot of giggles.
they arrived at the office and printed up a a few articles in which doug had changed things throughout to make chris the center of the joke. then they began their mission.
ashlyn was put on photography duty while doug pulled off the best prank ever!
first, i should show you the desk BEFORE:
and the weapon of choice: cling wrap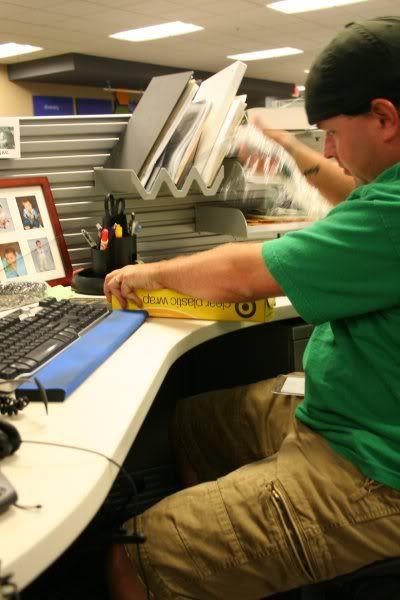 now, here's commentary of the whole prank and how he pulled it off......
it is important to note that a prank of this magnitude takes LOTS of patience. they were gone 2 hours.
FIRST, sit down and individually wrap every single thing in the roundabout holder.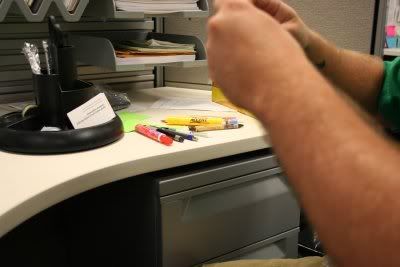 patience is your friend.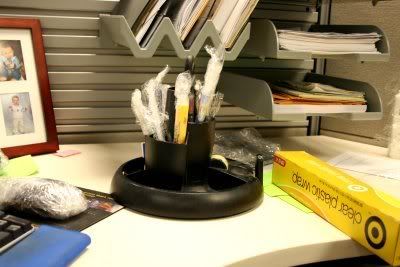 then, after you've wrapped every pen, marker, hi-liter........you must also wrap the scissors. THEN, you must wrap the whole roundabout. hysterical! also notice, the computer mouse and the lotion pump. oh yes, those must be wrapped too!
NEXT, you move to the sorting bins and inbox.
you certainly can't forget an embarrassing photo statement hanging throughout the office.
and shredded cardstock confetti is also quite useful, but it is important to reserve a handful or so to finish the job. notice the phone receiver covered too. BRILLIANT! oh, and the article about chris and his anal fissures.....that was also distributed as a memo to the team members.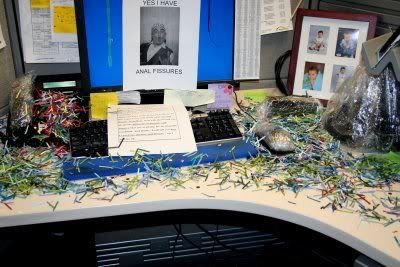 here's another glimpse at the sorting bins, post-wrapping.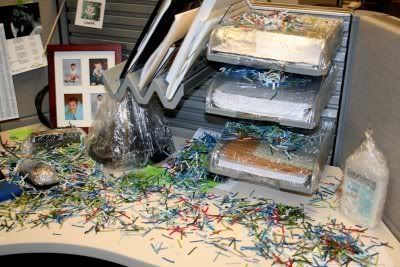 after the confetti drop, you need to move to the chair and start wrapping the arms.
now that you've done the damage it's time to wrap it all up. a little tape will come in handy so you can secure the plastic wrap and enclose the cubicle.
but wait. the mission is not quite complete. now it's time to enclose the top of the desk too. add that reserved confetti for a little added touch. and if you're of the friendly kind, you'll be so courteous as to leave the trashcan on the OUTSIDE.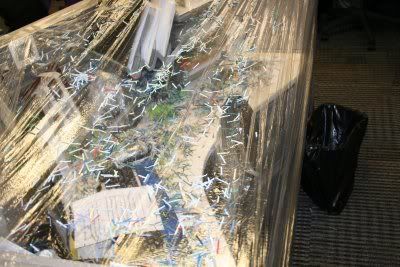 oh, wait. one more final touch. the saddy-poo sign........it's a MUST!
and that's how you get your payback.