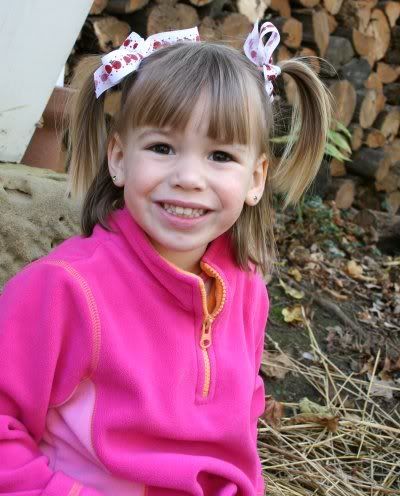 this girl, is the reason i'm losing sleep at night.
how so?
well, let me tell you, i've spent more than enough time and money visiting doctors with this kiddo in her short 3 years of life, and she never gets better. and i worry.
back at the doctor today because her pre-surgery cold has decided to settle in a little deeper. a visit at the 'ol doc today told us that her oxygen levels are down and she's wheezing quite noticably with every breath. and that cough. oh, it sounds awful. temperature is up to 101. and her little body is still trying to heal itself from surgery. pneumonia. and i worry a little more.
i see it in this picture. she's thinned out so much from not feeling well enough to eat like a normal kid. in the past year, she's lost a pound, but grown 7 inches taller. and again, i worry.
so we're ordered to give her 2 puffs of her inhaler every 4 hours, round the clock, and a double round of zithromax and hope that does the trick.
so, if you would, please say a little prayer that my anxiety will vanish and she'll wake up feeling better in the morning.
and while you're at it, whisper words of healing for my step-mom's sister Vicky who is in ICU on a ventilator.
thank you so much.