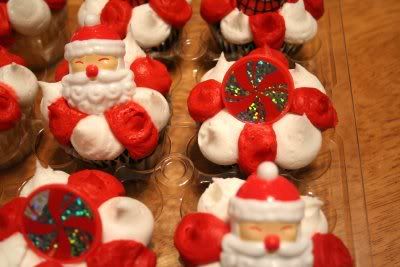 what decision i made on the birthday cake, aren't you!? but wait......those are Santa cupcakes. read on, my friends, read on. it's gonna be a good one.
i should start out by saying that i read every single comment and you had me convinced to just go to the store and place an order for a cake. i mean, really, she's 4, and she wants spiderman. he's a popular guy. sounds like an easy task to handle, right?
heh.
did you know that to get a cake you can't just walk in and place an order and expect to it be ready whenever you wish? i kid, i kid. but really, i head to walmart......oh, say 'bout 7pm last night with the complete intent on ordering a cake for pickup tomorrow. only problem? cake lady is on break. but, "hey, she's here until 10pm". perfect! i have a list of items to shop for, i'll be back.
you know walmart. you go in for 2 things and you come out 2 hours later with 50 things. how does that happen? i don't know about you, but i really, really don't like going to walmart. so when i go, i tend to grab every single thing i can think i might possibly need in the next 2 weeks---or 2 months, heh, and get it all over with. poor suzi (doug's cousin), she'll never go to walmart with me again, after tonight, i'm sure of it!
so, back to the cake lady. i get done gathering my things and make my way back to the counter. this time she's not on break. so, i ask to place an order and she politely asks when i need the cake. "tomorrow." you see where this is going right?
the gist of the conversation went a little something like......."it's 9pm now, i can have it for you by 9pm tomorrow--we need 24-hour notice." but, she says, "what's the latest you can pick it up?" "3:30," i say. she snarled her face like, eh.....that ain't gonna work. a quick glance to suzi that said "help me" without saying a word, and she offered to pick it up on her way at 530. cake lady agreed that 530 would be plenty of time for her to get it together.
i didn't feel so confident in her response though, so my brain immediately went to plan B. i ask cake lady if she can just sell me a white cake, with plain white icing. i could then work my decorating magic on it and all would be right in the world. eh. nope can't do that. something about having to let it thaw, and if she iced it frozen the icing would crack as it thawed and settled.
okay, then. plan C. but, wait you ask.......what was wrong with plan A? ordering the spiderman cake that cake lady said could most certainly be ready at 530 and suzi was even going to pick it up for me. ummmmmmm, i have no idea. it just wasn't cute, i suppose. and i'm stilling coming to grips with the fact that my little princess thinks she's a boy, LOL. and gosh darnit, i really had my heart set on
making
her cake. i'm a little stubborn that way.
anywho.
then, my eye caught a sheet cake that was iced white, with red piping along the bottom edge and it was airbrushed with pink and all glittery on top. my eyes popped and i immediately thought....a ha! i can make it spiderman, with a pink background to make it somewhat girly. yeah, pretty slick, huh? buuuuuuuuut, i stepped back to run it by suzi----'cause for some reason, i need her approval......hahahaaha. and just as i do, a little girl comes up and walks away with it.
can you believe it!? at this point, i'm so overwhelmed at the decision before me. yeah, i know, it's just a cake for pete's sake, what is wrong with me!????
so, the back and forth and what should i do went on for another 10 minutes. i explain to cake lady my idea and she offers some spiderman rings for sale to help me out. then.........the brain started working.........and the angels starting singing...........not really, but it sounds good right?
i spotted these: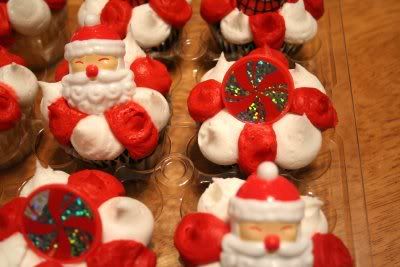 but there's only 12. we need more than 12. *sigh* at this point i'm getting just a weeeee bit annoyed and i'm ready to just make my own cake and call it good. i'm too darn indecisive.....it's a struggle to be me sometimes----like.when.it's.time.to.buy.a.cake. you wouldn't believe how much i'm laughing at myself right now telling everyone in the world wide web how silly i am over a birthday cake. silly. but, she's talked about it ALL year. it has to be good.
so we find 12 more.........BLUE ones. yep, you guessed it, decorated like Christmas. but we pulled the plastic Christmas plaque off, and we're left with a few snowflakes. i can handle that.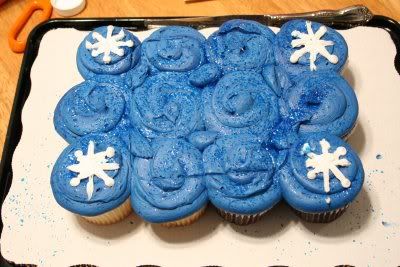 so, after i removed the santa rings, i doctored them back up with the Spiderman rings. i have to say, i think they look so adorable! like they were meant to go together. cute, yes?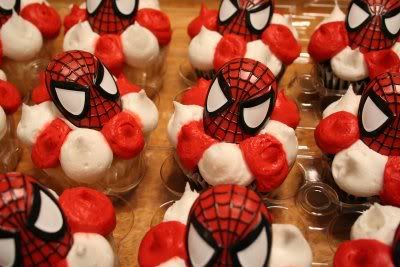 the creative juices are still flowing, mixing with my crafty gene and i'm ready to turn these blue ones into something amazing. i hope.
my idea worked perfectly and came out EXACTLY how i envision it. i just used a foil covered piece of a priority mail box (good thing i'm doing these giveaways, or i might not have had a box, LOL!), some icing colored with no-taste red coloring (by Wilton), and a tube of black icing and this mama got her wish of making her girl the most adorable spiderman cake she ever did see.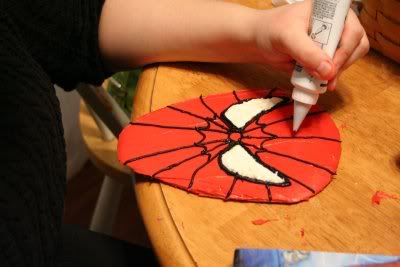 and i finished it up and put it on top, stuck a spider ring in it and called it good!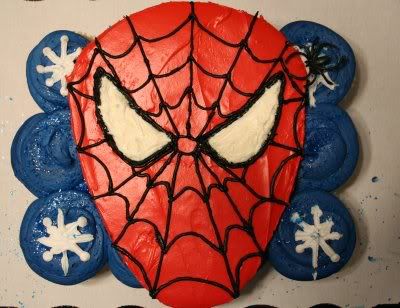 and i am totally, completely 100%, IN LOVE with how it all came together! i can't wait for her to see it when she wakes up.
THE END.
************************************
the countdown continues: 20 days until Christmas!
the winner for yesterday's prize pack is: DonnaBD.
please email me at taniamwillis at (yahoo.com).
up for grabs today is another huge collection of Christmas goodies. 16 sheets of 12x12 patterned paper, a sheet of cardstock weight stickers that coordinate, an 2 packs of metal embellishments.