#25 is OFFICIALLY marked off the list!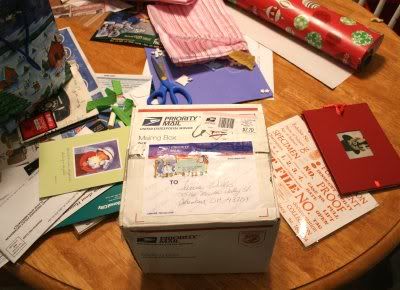 a peek into the messy thrilling life that i lead, shown up there above.
this is what i was greeted with when i arrived home last night. a lovely table filled with gift bags and wrapping paper, and kid art projects, and the giveaway prize still sitting from being photographed, a nice pile of junk mail, some Christmas cards thrown in for good measure, AND, a package addressed to me.
it's contents had me in tears. something simple. something homemade. and something SO very thoughtful that i can't even formulate the words to express how incredibly thankful i am to be the recipient of such an act of kindness.
i opened it up to find this inside.........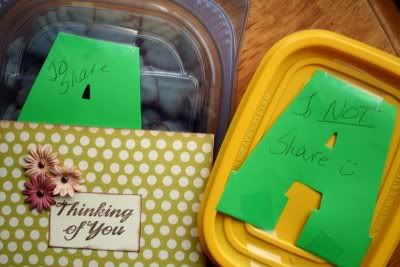 SPRITZ COOKIES! just like my mom used to make. and now i don't have to make them myself before Christmas. and better yet...........a package "NOT to share" and a package "to share." i'm dying to take one container to my brother as a surprise. but then again, he's surely not as sappy as i am about cookies. i mean seriously, after opening the container, i was brought to tears just from the smell of them. it's an entire childhood of memories wrapped up in the smell of a cookie.
crying over cookies. true story.
so, thank you alex
..........this ranks up there with some of the best gifts i've ever received! it doesn't take much to make me happy. or cry, apparently.
anywhoooooo.
i have a ton of stories to share, but they all need photos to support the stories. and well.....i haven't had time to resize them yet. so, tomorrow. maybe.
right now i have to get back to this mess.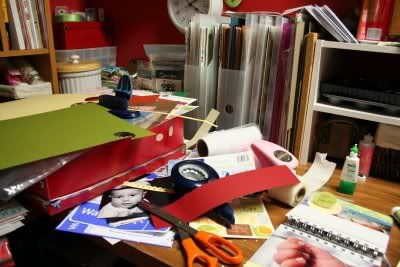 and my progress........
Numbers 1, 3, 6, 7, and 8. DONE!
Numbers 14, 15, 16 and 17. DONE!
Numbers 18, 19, and 21. DONE!
Number 23. DONE!
Number 25. Removed from List!
WOW. list making is quite motivating.
**************************
winner of the stamps & album: AuBien! please email me at taniamwillis at (yahoo.com) with your address!
6 days until Christmas!!!!!!!!
today's prize: lots of metal embellishments, some chipboard letters, and sheer journaling spots, some accent stickers and a roll of ribbon!