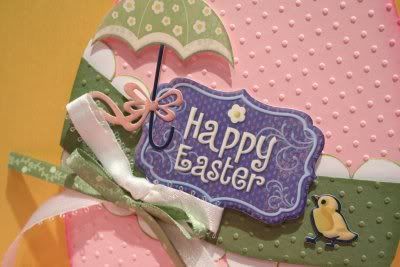 i'm telling you, you're gonna have to sit on your hands to keep from ordering these things! the
EASTER products
being released by Karen Foster do not disappoint. by the way.......all the product lines being peeked will be available Jan 26, 2009.
BUT, today, you can win the entire collection right here on my blog. all you need to do is leave me a comment by 11:59pm EST, january 22. so you have today and tomorrow. tell all your friends. the more the merrier. i'll use the trusty random.org to draw for me and post the winner Friday morning. international entires are welcomed.
i'll just cut to the chase today and share my peeks.
here's the full-view of the detail of the card shown up above. i just folded my cardstock, then cut out the shape of an egg, leaving the folded edge un-cut so it would still open. it's a fairly large card, so i cut another piece of pink to cover the card front and then sliced it in half (top & bottom) and ran it through my cuttlebug. the seam is hidden with the green cardstock, also, embossed with my cuttlebug using the swiss dots embossing folder.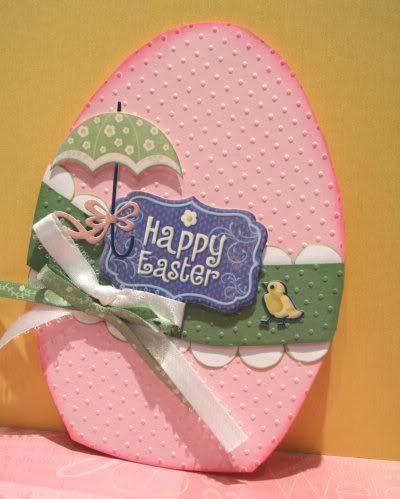 did you know that karen foster works exclusively with the folks at Prism to have cardstock available that matches every product line? i LOVE that they do all the work for me and i don't have to guess which colors to buy that will work best with each product line.
here's emma grace, about 2---almost 3---Easters ago. the only warm Easter in her 4 years around.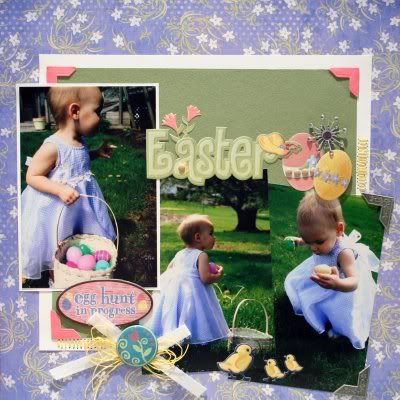 i'm sure by now, you know, i'm all about the embellishments.........and the floss. love me some karen foster scrappers floss.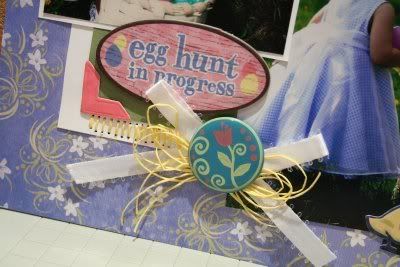 oooooooooooh, and they came out with the coolest starburst brads. EVER. those are all tiny rhinestones and MIRRORS on there. yes, mirrors. SO cool. and reflective. loooooooove them.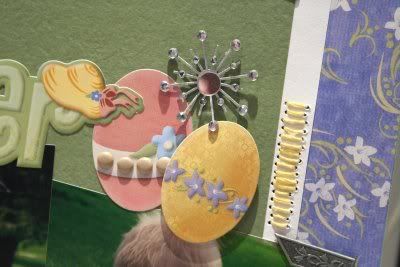 and in the game of fairness around here, i had to make one of ashlyn too.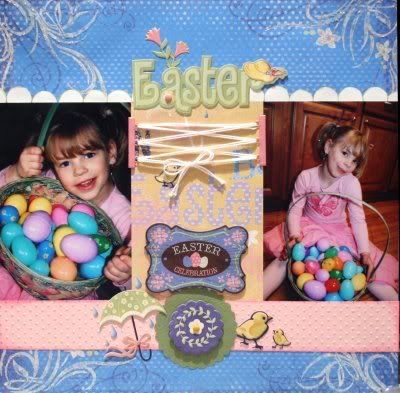 with more cuttlebug embossing. i can't resist. (and NO, they aren't paying me to endorse the cuttlebug--oh, how i wish). anywho. karen foster has mini brads once again. this time they come in tic-tac like containers with a divider down the middle holding two colors...usually a light and dark version of the same color. some containers have glittered brads too. love me some glitter. it's just hard to photograph.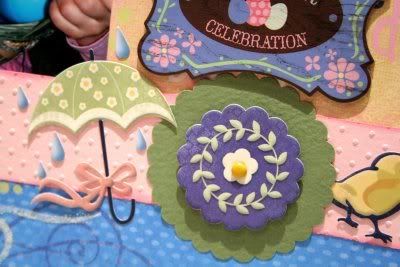 and the other new embellishment us designers have been raving about is the new and improved brad bars. remember the loopy brads that we all fell in love with. well, now you can get loops on the brad bars and do cool things like this....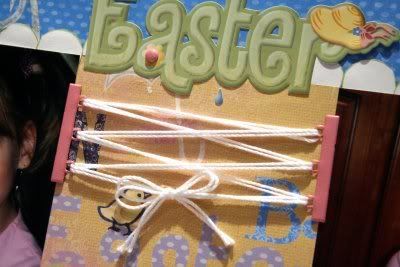 two friends are sharing Easter peeks today....
Alice
(who is also the the queen of using those loopy brad bars) and
Josee.
leave comments here for your chance to win the whole collection!