.....and so are my eyeballs. suffering from what i like to refer to as "CHA syndrome". if you know me at all, you know that i'm Type A personality through and through.......overacheiver, perfectionist, neat-freak, don't like to disappoint, and.........well, you get the point. so what i'm about to share with you is HUGE for me people.
i really, really don't like to read other people's blogs where the author, using carefully chosen words, paints a picture perfect example of what a day in their life is like. makes me gag. that, and makes me want to reach through the computer and smack them across the face and bring them back to reality. you know the ones i'm talking about..........they come across as if they are perfect in everything they do, kids never cry, dinner never burns, laundry's always crisp and clean, socks matched. they aren't fooling anybody. heh.
well, maybe they are.
because i always walk away feeling like i'm not doing my job as a mother good enough.
i forget for a minute that i'm only getting a teeny, tiny little glimpse of their life. and i forget that they may just be putting on a huge front so that they are perceived as "having it all together."
maybe it's because i'm not a "glass is so full it's spilling over" type of person. i analyze things until the analyzing needs analyzing. hahaha.
i often get comments or emails saying 1 of these 2 things:
1. i want to be you---such a glamourous life you lead. lucky thing getting to work from home scrapbooking all day long.
2. how do you do it all?
so, today, i want to give all the women in my life a gift. the gift being the token of my words and the pictures of my life. today.
BREAKING NEWS:
I don't have it all together! Surprise!
i'm going to disolve any myth of glamour you might have about me being supermom and superwife and superscrapper and........well, you get the point. working from home does have some lovely perks---working in my pajamas, taking a break when i want, the girls can work at my side, i can kiss the boo-boos and referee the fights, etc.
but, there's a not so glamourous side too.
because it's still work. yes, it's scrapbooking.....but, just like any work from home job, there is a delicate balance between work and home. a balance that i struggle to find every.single.day. and then when it comes tradeshow time that
balance is NON-EXSISTENT
.
when CHA rolls around (it's the Craft & Hobby Association trade-show revealing all the new product lines for the next few months), there are so many deadlines in such a short period of time and the preparation hits right in the midst of the Christmas/New Year holiday.........and well, it's crunchtime. working from home crunchtime is just like crunchtime working at a job away from home----except more challenging because you never walk way from it. it's always staring you in the face taunting you....." phftttttttttt....nah, nah, nah, nah boo-boo!"
tight deadlines, re-dos, finding enough "perfect" photos to do 30 layouts in a week, overnight shipping, up at 6AM, back in bed at 2AM----every single day for 5 weeks solid.......lots of WORK. oh, and i work a second job too. 5 hours a day.
so it should be no surprise that..........
the entertainment center up there is overflowing with keys and dvds that didn't get put away and loose change and toys and..........
it should be no surprise that......
*gasp* the beds haven't been made a single time in the past 5 weeks.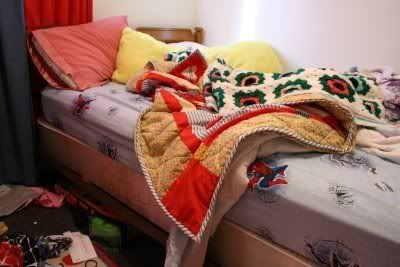 it should be no surprise that........
the toys are just thrown in the corner burying the books underneath. and there hasn't been a single bedtime story read to the girls since i can't remember when.
it should be no surprise that........
i've got piles on the dresser.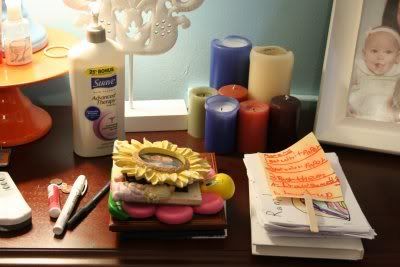 and piles on the table.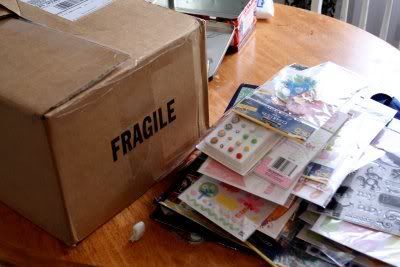 and piles on the countertop.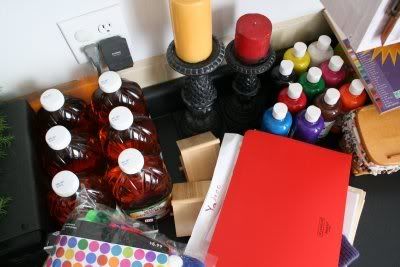 and........guess, what. even more piles on the dresser.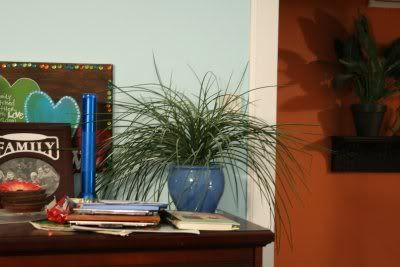 it should be no surprise.........
that i can keep up with the wash, but i can't keep up with the folding, so we're living out of laundry baskets.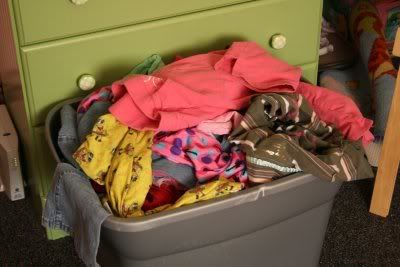 it should be no surprise.......
that i'm back to living off muscle relaxers and painkillers for my bulging discs and sacro-illieac joint arthritis because i don't have balance right now and i'm pushing myself way too hard.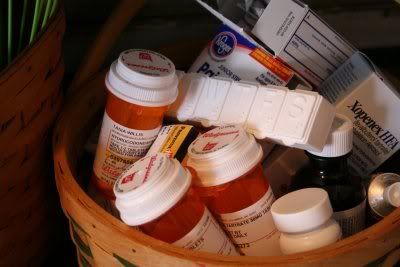 it should be no surprise.....
that we still haven't followed through with tradition and made our Gingerbread Train.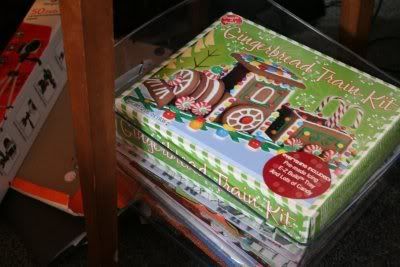 it should be no surprise........
that i haven't moved a step forward in the kitchen decorating and hung the cabinet doors or stripped more wallpaper off or even painted the rest of the cabinets.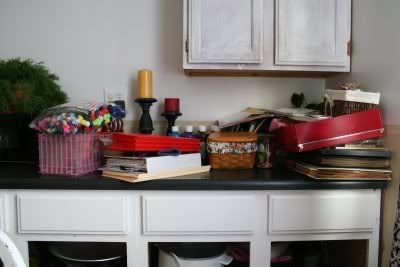 so, friends. i'm here to tell you today.........it's OKAY. your life doesn't have to be perfect all the time. my deadlines are done and now i can get all these fires put out and resume life as normal. i survived.
and you can too! please promise me this.......promise me
that you'll quit beating yourself up over whatever shortcomings you have as a wife and mother and that you'll just embrace who you are and continue this dance through life with a smile on your face and joy in your heart knowing that you are PERFECT, just.the.way.you.are.
promise me
that you'll quit trying to be all things to all people and give up that supermom mentality.
promise me
that you'll always do your best and after that you'll be proud of everything you do from this day forward, even if the end result wasn't "perfect".
promise?
and i'll try my best to be a little more transparent myself. i think this was a good start.