well, hello again....did you think i wasn't coming back? believe me. i thought about it--for a whole 2 seconds. i get this feeling every now and again. this feeling of just wadding up all my projects (blogging, scrapbooking, decorating, sewing.......) and sticking them out for the birds. honestly, the feeling comes far too often than i'd like to admit.
i'm easily overwhelmed.
there. i said it.
CHA projects have depleted every last ounce of my energy reserves and left me to hang out to dry. could be that i didn't follow my own rule of maintaining balance with work/home. 2AM bedtime 3 weeks in a row, will do that to ya, i suppose.
but it's over now. i'm officially done with projects for the tradeshow........tonight they will be packaged up and in the mail. so, tomorrow, i will sleep.sleep.sleep. actually, probably not, but it's nice to just daydream about sleeping all day long. hahahhaa.
anywho.
our weekend, in photos, with commentary.
this girl was crackin' me up the whole time we were making the cookie dough saturday morning. first thing---the spiderman costume. it just makes me laugh. she'd wear this 24/7 if it never got dirty. she doesn't like anything she's wearing to be dirty. here, she was running away from me and the camera, taunting me with her cute little rendition of "you can't catch me, i'm the gingerbread man." sooooooooo funny. at one point she actually pinched her lips closed with her fingers just so i couldn't get a picture of her smiling. she was trying to be all irritated with me, but she was even making herself crack up.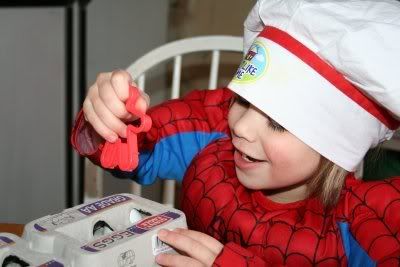 it was shortly after that when we were thankful the dough needed some chill-time. ashlyn had already started to near the meltdown mode. turns out that baking cookies this morning was a little too chaotic for her. i'm proud of her though. instead of a meltdown, she just grabbed her baby, sucked her thumb, and used her words to say she'd had enough. she then sat and stared blankly out the window. could she possibly be learning to control her reactions with this sensory disorder and have a bit of self-control? i won't get my hopes up yet. but she is making progress.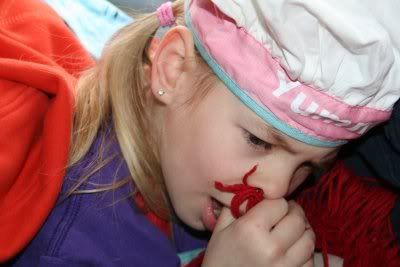 later in the afternoon, ash decided that she hasn't had quite enough of Christmas just yet. so she planned a party with invitations, and went around the house collecting everyone's favorites and went back to her room and wrapped them up. as she finished wrapping for each person she brough them down and put them under the fake decorative tree. i love that girl.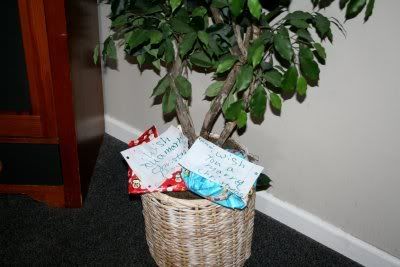 doug and the girls made lasagna for dinner. then suzi came over to hang out while ashlyn taught us how to make lava lamps. something she learned from familyfun.go.com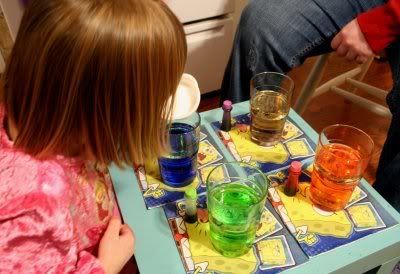 1. fill glass 1/2 full with water.
2. add food coloring.
3. add 1/3 cup vegetable oil.
4. allow layers to separate.
5. slowly pour in 1/3 cup of salt.
6. watch the magic happen.
lovin' the smirk on her face-----she was so proud when we all thought it was the coolest thing since sliced bread.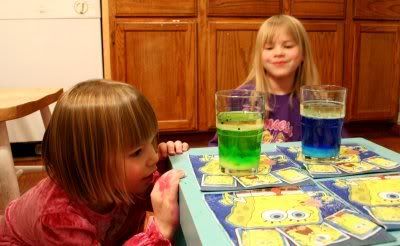 then we gave making the cookies another whirl and ashlyn did just fine. emma, on the other hand....i don't know what had more sugar clinging to it---the cookies or her jammies. what a mess. she had fun. for sure.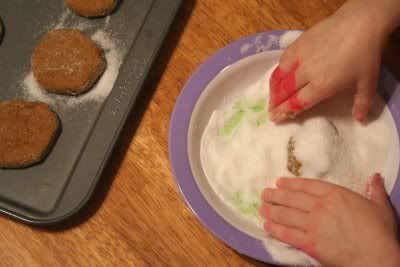 she didn't quite get the idea that you were supposed to coat the cookie and shake off the excess. she was only interested in seeing if she could actually bury it in the sugar.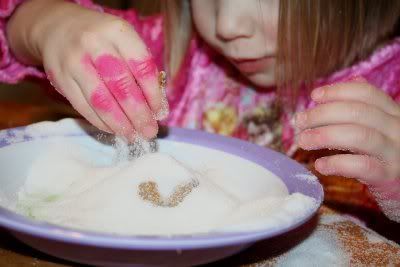 and sunday, i was glued to this desk. checking last minute things for that class i'm teaching. with my back screaming at me the whole time.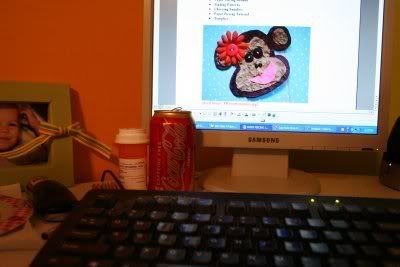 and then we went to don pablos and came home and watched Mama Mia while crafting. ashlyn made this little monkey and it's so cute i can't resist it! she wants to be just like me soooooooo bad. i found some projects and instructions on her bookshelf that she wants to "teach" to people. so cute.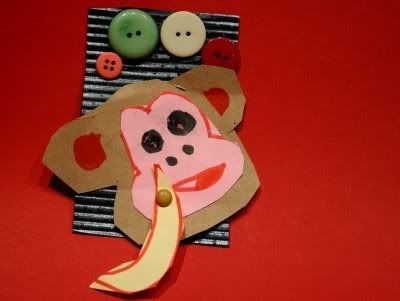 and that's all i've got for today, folks.
******************************
karen foster is peeking the Fishing line. and i'm entirely too exhausted to track down all the links for you. BUT, jen has it together. so just head over to her blog:
Jen Gallacher
for your chance to win and all the links your heart desires.
PEEKS & CONTEST right here on my blog tomorrow morning!
g'night.