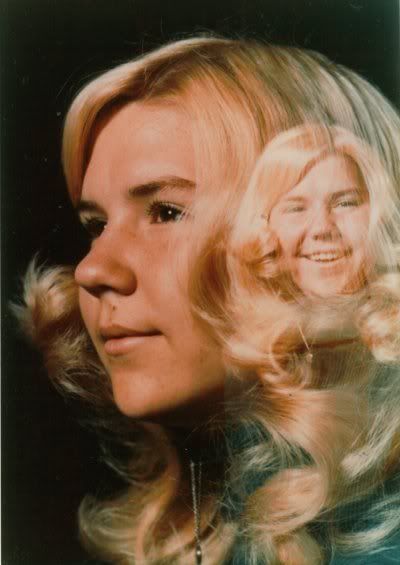 that's how old mom would have been today.
i still, after a year and a half of her being gone, pick up the phone to dial her number so i can tell her something, then realize.........she's not there.
when i scroll through my Contacts in my cell phone and i see "Mom", i get a pain in my heart, but i just can't bring myself to delete it.
it makes me sad to think about all the things she's missing.....that she'll never see my girls graduate high school or walk down the aisle and say "i do."
i'm still running into people that don't know. in fact, it just happened two weeks ago. out of nowhere someone came up beside me and said "tania, how the heck is your mom?" it caught me off guard and i really thought it was a sick joke, until i realized who it was talking to me. i hadn't see this guy in 15 years---we used to take tae-kwon-do together and he and his parents were ones that we tried and tried to find contact information for but just couldn't get ahold of.
or, there's still people who knew........but forgot. awkward to have that conversation.
last week i caught myself talking about her a lot. my mom this and my mom that---usually just when i'm talking to dawn at work. she talks about her mom often. anywho. never once did it occur to me that she was gone. i mean, but it didn't hurt to talk about her.
i still have a hard time driving at night. even more so if it is a rainy night. those were the exact conditions outside when i got the call saying something was terribly wrong. dark and rainy. it doesn't bring tears, but panic and anxiety.
i look more and more like her every day.
i sometimes want to meet the person who is now walking on her feet and the person now seeing with her eyes because of organ donation. a decision i had to make and didn't take lightly.
i'm thankful i have a daughter who is so much like her daddy. she has an incredible.....i mean, incredible.....memory. she remembers lots of details about her big grammy and things they did together. and she'll sit and tell emma story after story after story about big grammy.
please take some time today to visit this amazing resource on heart disease at http://www.goredforwomen.org/ to educate yourself about this number ONE killer of woman in America.
know the risk factors: obesity, diabetes, high blood pressure, high cholesterol, smoking, and physical inactivity.
and know the signs and symptoms.
what is one thing you can start doing today & everyday hereafter to improve your heart health?