so i went from dark chocolate brown---on a haircut that i snipped at just a bit here and there every evening for 5 days in a row after i got the chop job trying to even up what the girl missed---to fushia flash. but first you should know that i cut myself some (long) bangs. shortened the whispies on the sides. and instead of taming the back curl, i'm making it work for me by curling the back so it flips up and spikes out a bit and curling the rest under to help shape it up a bit. tucking the bulk of the sides behind my ears, too. it's amazing how just a few curls, some pomade, and 3 days of post-cut growth will make your haircut look completely different.
i used to cut my own hair all the time when i was in highschool. now granted, it was super long and all one length. but i did. and not a soul could tell. i was gooooooood at it.
and here's the result of my alterations.....ooooooooh, and a little peek at my zebra print jacket that i couldn't resist buying.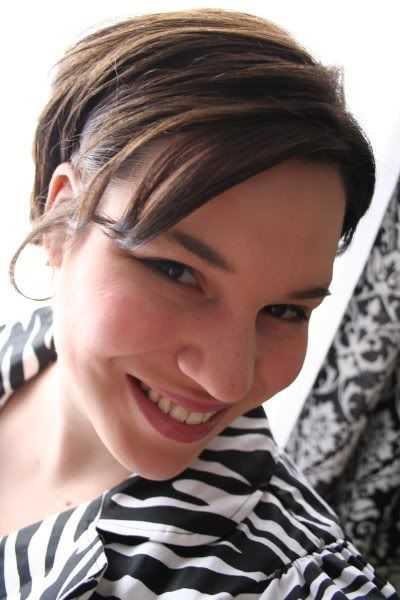 and i can honestly say.........i kinda love it. and i feel a little silly for being so dramatic about it the first day. but really, it was a major shock. afterall she did say, "how much do you want off the back?" to which i replied, "oh, 1/2" sounds good."
anywho.
saturday night, i finally had time to add the fushia flash to it. and although it totally didn't turn out the color that i thought it would........i still looooooooooooooove it! love it. love it. love it.
instead of being more purplish, like shown on the box, it's more of a magenta with a red undertone. and did you know----it's REALLY hard to get a good photo of it. true story. AND, it didn't color as well as it did last time i did the red rays color. the box warns that it won't be as bold on color treated hair.....and i did just color it dark chocolate brown last week.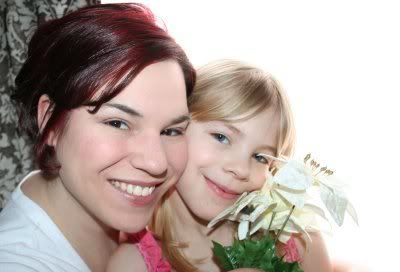 and another one of my girl..........'cause she's just so darn adorable.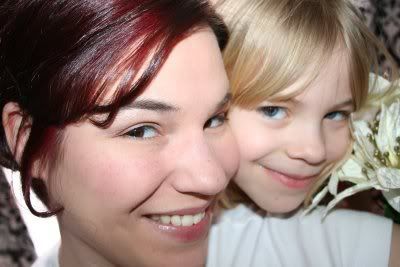 and one more..........'cause she's simply irresistible, right!? i think so. she likes posing for pictures with a fistful of flowers tickling her cheek. i don't know why. she found these in the leftover bin from the last class i taught. she's got the whole dreamy eye thing down to a tee. where does she learn this stuff?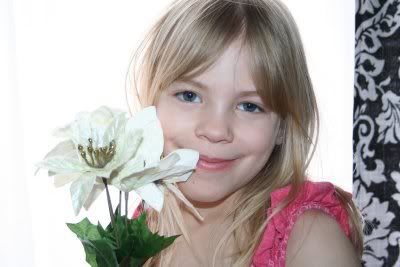 oh, and funny story. she likes to tell me how to hold the camera as i take pictures, then she quickly shifts her pose and i snap the picture. then she says......"okay, this one's for suzi." and i take another "okay, this one's for grammy at the beach." and i take another. "okay, this one is for......." so funny.
and here's my little fashionista in the making. she puts the craziest things together and somehow pulls it off and always looks super cute! this particular time, she wanted to show off her makeshift dress. she turned one of her long shirts meant to be worn with leggings into a dress--with no leggings....but showing lots of leg (eeeeek!), and then she put a headband with the long dangling ribbons around her waist as a belt. a headband as a belt, people! proof that she's too darn skinny!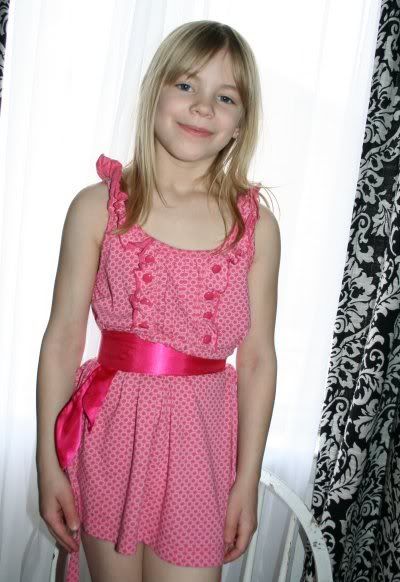 that's all i got for now!