i got a comment on here and an email in my inbox sharing the exciting news that my cousin Stephanie had her second baby girl, Alejandra Lilly, (i might be spelling that wrong)......BUT, guess when she was born!? on my mom's birthday! and she weighed the exact birth weight that my mom did according to my grammy lou. coincidence? i think not.
tonight, my step-dad is taking me and the girls here: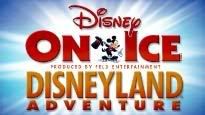 we have rink-side seats...........and another little surprise in the form of a personal driver (read: limo). the girls know about the Disney on Ice tickets, but they don't know about the rest. i can't wait to see their reaction. and i'm super excited at the prospect of giving my camera a workout since non-professional still photography is allowed. YAY! battery is charging now. wish i could take my tripod but that might give them the idea that i'm a pro----and clearly,

i am not

.
i have all the laundry in the house washed. except 1 load of towels. but, i'd celebrate more if i could keep on top of the folding and putting away and i didn't have to resort to my go-to sorting method.

my step-brother is getting married to his adorable fiance Kristen in June at the Park of Roses and this weekend is when we have our appointment to find the girls their dresses. they asked ashlyn and emma to be flowergirls in the wedding! oh, there will be pictures of this----emma in a dress---photo worthy, for sure!
i have my computer back!!!! thanks to a friend who linked me up to a fix that worked. some not-so-nice person attached the Vundo virus to one of the games on pbskids.org and emma downloaded it. the fix took less than an hour though once we found out what to do!
that's all i got for now.......come back tomorrow for some pictures of our adventure tonight!