all kids eventually get bored with their lacing toys or lego building blocks when they have to stay inside to play. and believe it or not, we don't own a single lego---except for the ginormous ones called mega blocks that they got as babies. and we don't own tinkertoys even though they call my name any time i step into the toy store. but dang are they expensive.
s0 in their boredom and my quest to keep emma quiet and entertained, i knew it was time to pull out something new and earn myself some mommy points---without spending a fortune on a new toy.
toys are so overrated.
and when it's just me with the kids, the television stays off.
did i ever tell you that i could live the rest of my life without television? no? well, i could. it's just too much noise. and yes, i'd survive without my american idol, which is about the only thing i watch on t.v.
anywho. on the way home from the doctor friday we made a quick stop at the grocery and spent barely over $3 and they were entertained all weekend. in the cart? cornstarch--for oobleck (73 cents), large pink marshmallows (88 cents), mini-pastel marshmallows (88 cents) and party toothpicks (64 cents).
i saw this idea for the first time on
Sharyn's blog
and knew instantly that my kids would love the activity, but then i forgot about it until friday when it was time to clear the cobwebs in that brain of mine and pull out some activities that would entertain but still keep emma fairly restful.
i dumped them in the center of the table and simply said "build something" and they went to town. emma got a kick out of building recognizable shapes and letters and then was thrilled when she built a house and a party hat.
then she moved on to making a very involved robot complete with arms that move. it was a very labor intensive process, i'll have you know.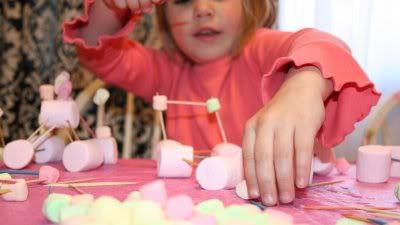 ashlyn thinks way beyond straight lines and was easily frustrated that her toothpicks wouldn't bend into shapes like rainbows and elephant trunks. but was highly amused when i showed her how to make a flower that she then replicated.
then it became a competition of who could make the coolest robot. ashlyn came up with a 3-legged, 3-eyed, pink headed robot resembling something of a firework exploding. very cool indeed.
and then we took them all apart and did it all over again the next day. well worth the small investment.