i need some sewing advice.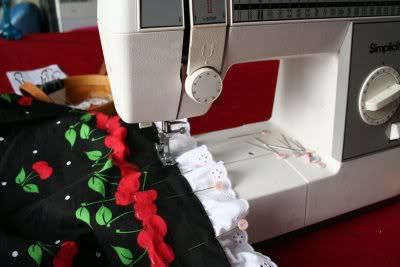 during a random trip to walmart for something or other, i happened upon the fabric department and impulsively purchase a yard and a half of this cheerful sundress material. you know, the kind with the smocking already done for you, so you basically just have to measure, sew yourself some side seams and give it a hem. easy peasy. or so i thought.
i don't claim to be an advanced seamstress by any means, but i have a few sewing projects under my belt. mainly quilts, but i have made my fair share of curtains, pillows and even a dress or two from a pattern---complete with zippers even. i know. impressive, right? all thanks goes to my grammy lou. she taught me not to be afraid of the sewing machine.....that's what they made seam rippers for.
but, for some reason, the easiest of all my sewing projects is giving me the most headaches trying to figure out how to move forward.
here's the deal. i've done washed, dried and ironed my material, measured, cut, then sewed up the side seams. i've even put in the hem and then i took it a step further and embellished it up with a playful ruffled eyelet lace trim.
ashlyn tried it on and it fits beautifully.
BUT, the part that has me stumped?
the straps.
how in the heck do i make the straps?
most dresses of this type have some sort of cording or skinny ribbon or tie in a bow. i purchased some black grosgrain ribbon, 1 1/4" wide (i think) and i was just thinking of sewing one end to the front and the other end to the back, then maybe embellish at the shoulder area - OR - the area where the ribbon meets the front smocking with a decorative bow or button.
but, i'm afraid to move forward with it. why??? i guess i fear that i'll screw it all up.
fear of imperfection keeps me from completing waaay too many projects. if anyone has the secret solution to that problem, please let me know, ASAP!
or, just tell me how you'd finish off the straps for the dress.
and YES, it needs straps. as much as my girls bounce all over the place, they need to have straps or else the dress will constantly be slipping down. it's mostly black with a few random tiny white polkadots and cherries. if you need a full visual, i can take a picture of it on her and post later.
did i mention that i have enough fabric to do it all over again and make one for emma too?! i can hardly wait! it's been so much fun getting aquainted with my sewing machine again. she doesn't know it yet, but i'm hoping to hijack some of aunt donna's sewing space and make another quilt.....someday--like soon.