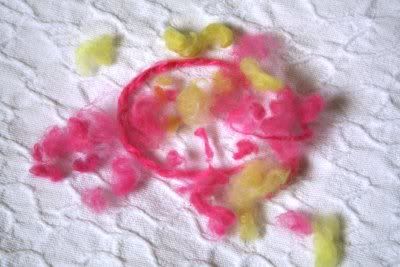 what is it, you ask? welllllllll, that would be the fuzz that my daughter (emma) has created by raking her fingers through her babydoll's hair when she's tired and ready for bed. she does this, then wads it up in a little fuzz ball and holds it in the crook of her left index finger and uses it to tickle the tip of her nose while she sucks her thumb. it's just her thing.
yep, it's true. she's still addicted to fuzz. if you haven't seen the blog post of her fuzz addiction, you should read it now (
click here
). she's done this for as long as i can remember.
she's particular to two babydolls in particular, both purchased at Friends2BMade by aunt suzi. one with pink hair and the other with yellow hair---as clearly evidenced by the photo above. but, in a pinch she will grab for any babydoll with yarn-type hair, or even a stuffed animal with fuzzy furr.
in a quick tidy session around the house, this is all of the fuzz that i found. insane, right? fuzz follows me everywhere. i find it at work, i find it in my purse, in my shoes, in my hair, on my pillow, under my bed......e.v.e.r.y.w.h.e.r.e! and every time i find some i laugh. i honestly think it duplicates itself in the laundry because i can surely come up with just as much just from picking it off of things while folding a few loads of laundry.
funny thing is........the kids at her preschool are so used to her little quirk that when she gets there in the morning, they run up to her all excited-like and say "emma!!! i found some of your fuzz!" and she grabs it and holds it in the crook of her finger and goes about to play. hahaha. they actually hold onto it for her and don't just throw it away. so cute. i gave up trying to pick it all up and throw it away myself. it's just part of our life.
so, it was only fitting that i created a layout about emma and her dolly. this was one of the three things i created for the
Scrapsupply
May Newsletter, available online now. click
HERE
to read the entire newsletter and be inspired!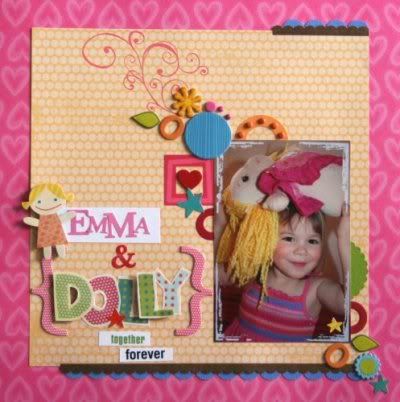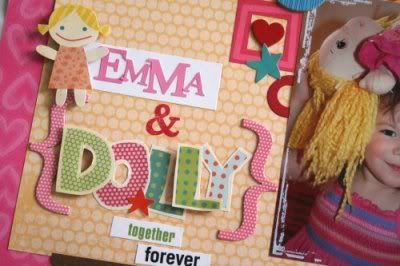 speaking of
Scrapsupply
,
they turn FIVE so
on
! so for their upcoming anniversary, we are having a month-long celebration over on the message board with lots of opportunities to be inspired, play some games, get in on some challenges, get competitive with some scrappy bingo and much more! hop on over and check it out! the more you play along, the more "playdough" you earn! here's a
link to a brief synopsis
. the party will get hyped up even more on anniversary weekend, June 5th & 6th. we've got a $100 gift certificate going to the one with the most play dough. what are you waiting for? check it out!
and, i'm also super excited about my friend,
Doris Sander's
, new class at
Get it Scrapped!
she's teaching another round of
Product Pizzazz 102!
this class will be packed full of design principles and crafting techniques that will have you walking away feeling highly inspired and very motivated.
that's all for today......