hello friends!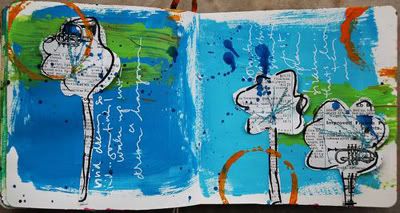 if you don't know the work of my super talented friend,
Dina Wakley
, then you are missing out. i LOVE to visit her blog when i'm lacking inspiration because her art has so many layers and textures......it's purely DELICIOUS! she's the Master at creating gorgeous art journals and texture filled scrapbook layouts.
i used to fear creating in an art journal---just an overall struggle for me, but after sitting in on dina's first class, Art Journaling 101, that fear melted away....instantly.
dina is an AMAZING teacher with both written text AND detailed video tutorials showing her students how to make art, both purposeful and meaningful!
she's done it again with the launch of
Art Journaling 201: Masterful Art Journaling Class.
Dina says, "This class is going to be different than other classes you've taken. We're going to take an artist and learn about his or her life...sort of a crash art history course. Then, we're going to take the artists' style and art and use it as a starting point for our own journals. We're not going to be recreating the artists' work...I'll save that for 4th grade art class. No, we're going to draw snippets of inspiration that can fuel your own work for pages & pages.
Intrigued? :)"
Registration is still open!
And...there is an early registration prize!! Register by Monday for a chance to win a set of 6 Liquitex Heavy Body Artist Acrylics and some ephemera!
Class starts Tuesday! But, now's your chance to win a FREE pass to
Art Journaling 201: Masterful Art Journaling.
Just leave a comment on this post and i'll be back Monday to announce a winner!
now, though........i'm off to get hairbows made and sashes steamed for the girls. they are flowergirls for Greg & Kristin's wedding! it's TONIGHT! yay! there will be LOTS of pictures come Monday! :o)
have a lovely weekend!
good luck!