warning: photo heavy post ahead.
like i said, the wedding was at the park of roses, and part of having an outdoor wedding means set-up and tear-down of your chairs. no joke, they had a bride rehearsing for her wedding in the same area, less than 5 minutes after the wedding was over. crazy.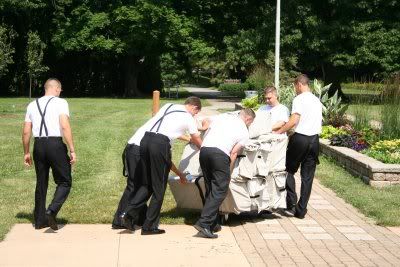 i got a kick out of watching to see how many groomsmen it takes to figure out how to maneuvre a cart full of 160 chairs. mind you, it was a good football field length away for set-up and in the mid 90s that day.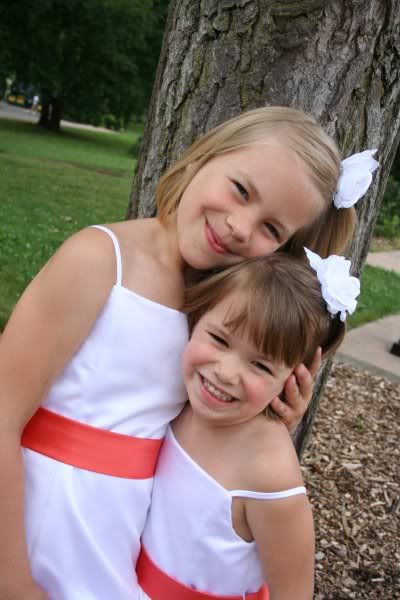 while kristin was getting ready and stealing some moments with her bridesmaids, i took the girls outside to snap a few candid shots. the sun was super bright and i don't claim to be a photographer by any means, but their cuteness makes up for my lack of photography talent, LOL.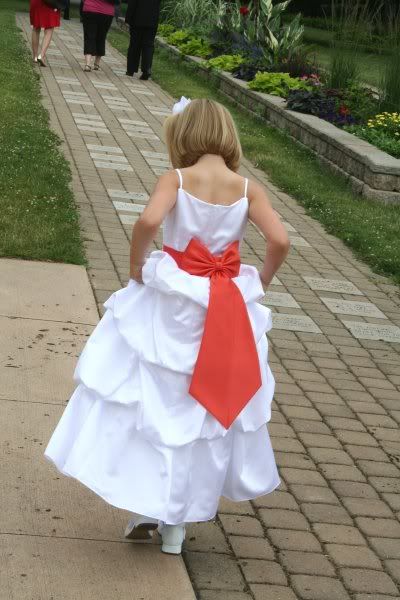 ashlyn was terrified that she'd get a speck of dirt on her wedding dress. defintely my prissy one.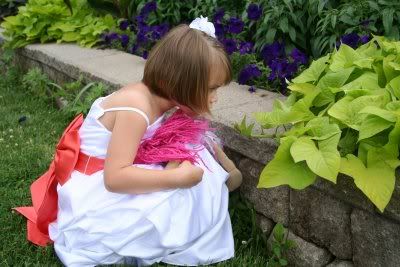 emma on the other hand didn't give two hoots about that nonsense and was off in her own little world looking for slugs and ladybugs. total tomboy. it really is amazing how completely different they are.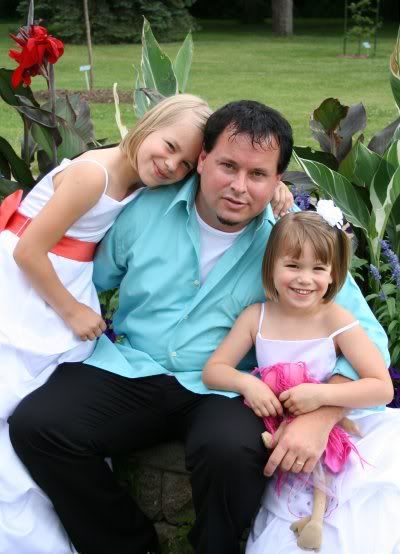 doug tried his hardest to help to keep the kids entertained and off the ground. they both thought they were going to melt from the heat.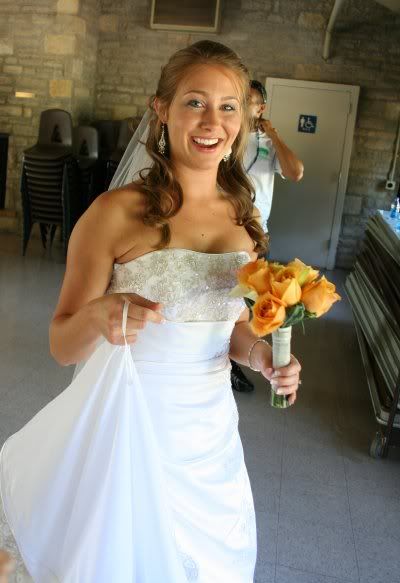 kristin was glowing.........with a permanent smile plastered on her face.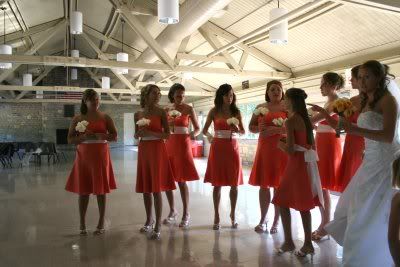 this is the best picture i have of all the girls together.......their dresses were so darling. by far the most stylish dresses i've ever seen a bridesmaid wear. not a great photo though.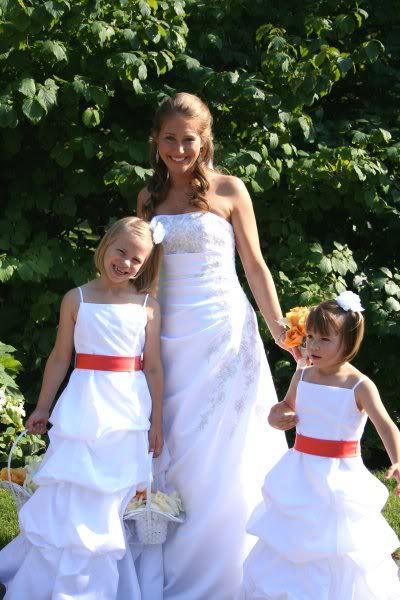 i was really trying to stay out of the photographers way, but at the same time, ashlyn was a little overwhelmed with all that was going on so she wanted me close by. because of that, i was able to catch a few special moments for kristin......too many to share here. she kept saying over and over and over "i'm soooo happy!" i got to watch each of the bridesmaids, one by one, take their turn giving her a hug while they were waiting for the wedding to start, but a special hug from her sister and a few words of encouragement made the tears start to flow. happy tears.
the plan was for the girls to walk down the aisle and then come sit with us after kristin made it down. instead, they stood like this for several minutes until i got emma's attention to come sit. we had ice water waiting for her because of the heat. ashlyn decided to stay with the big girls, but she stood with her arm over her face shielding the sun the entire time.
well, until i looked over and noticed her red in the face and holding back tears. before long i realized she wasn't going to hold them back anymore and she came running to me, sobbing. i immediately walked her out and discovered that the bees liked her flowers a little too much and she got stung on the finger. so i spent the rest of the wedding consoling her and holding ice on it to reduce the swelling. it ended up swelling to three times the size and she couldn't bend it by the end of the night. i had everything but benadryl on hand, but got her a dose as soon as we made it home that night. in the meantime we used the old-time remedy of smearing onion stem juice on it snatched from the herb garden at the park of roses.
when i walked out, i left my purse and camera behind. thankfully, someone decided to pick up my camera long enough to capture this......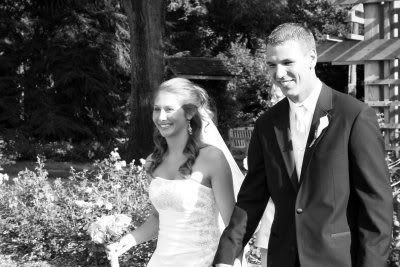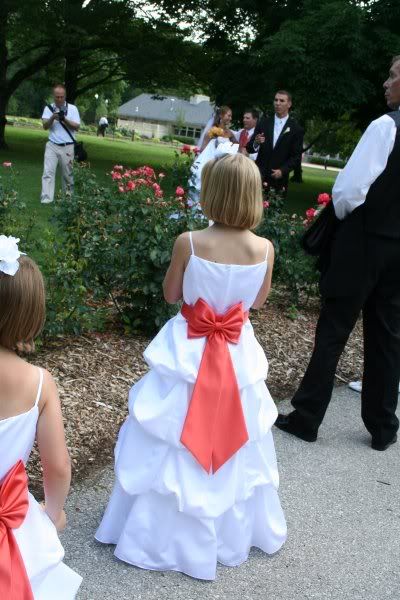 after the wedding, we had to hang around for pictures, then we hit the road to drive through town to the reception. it was held at the
Venue at Smith Bros
. which is located in historic downtown with breathtaking views of the Columbus skyline. it is inside an old warehouse building that has been remodeled for events, but still has the exposed brick and duct work. modern elegance. again, not such a great photo of it....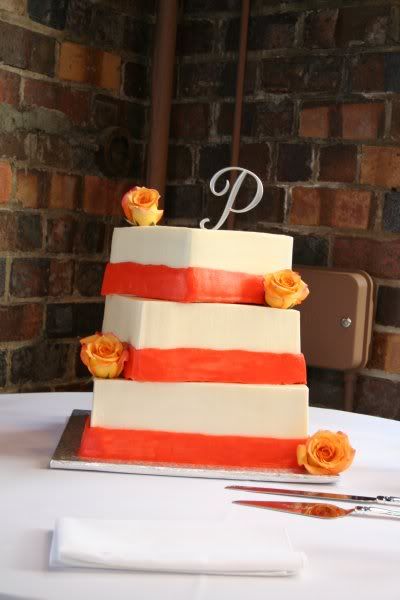 the cake. delish. key lime flavored cake with rasberry filling. mmmmmm.
emma was thrilled with being able to go up and place her drink order and get whatever she wanted to drink whenever she wanted it. the things that amaze them are so laughable.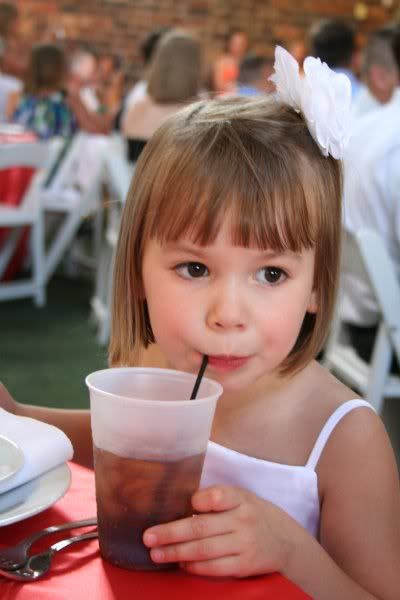 but, even more fun than that, was being able to clank her silverware on the glass and watching the lovebirds kiss and being able to offer cheers with ashlyn. this kept her occupied for at least an hour.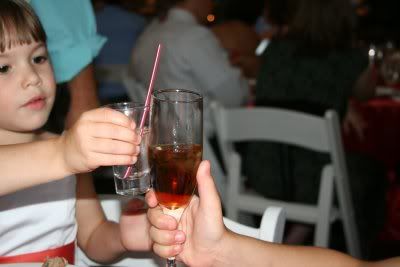 then, that girl was all about the dancefloor. she talked for weeks and weeks and weeks about dancing. and dance she did. like a fool. here's her best Michael Jackson Thriller impersonation.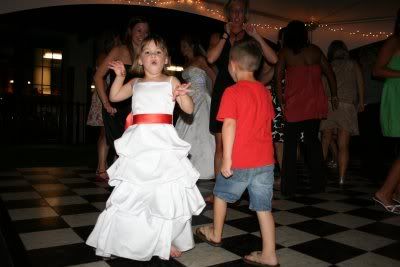 and no, she didn't fall. she spent half of her dance floor debut like this........only spinning in circles on her belly and bum. breakdancing. i don't think i've ever laughed so hard in my life.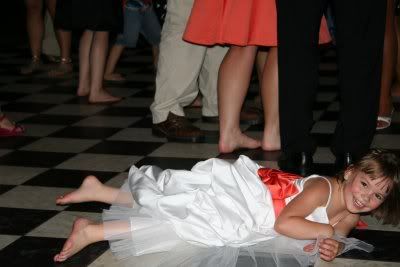 ashlyn was much too overwhelmed to dance, but aunt kristy convinced her to come out one time. her idea of dancing is being twirled in circles over and over and over again.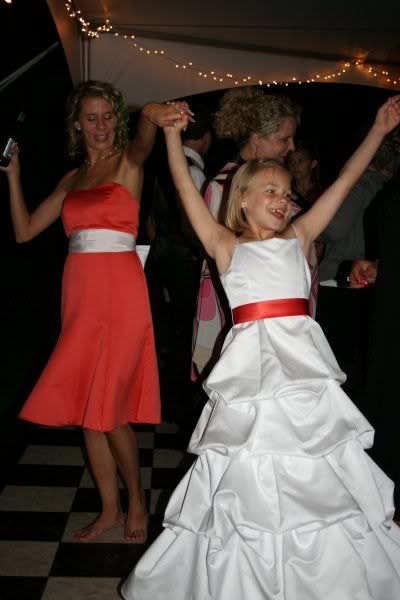 but she then retreated back inside to snuggle in my lap with baby. oh yes. we couldn't go without baby.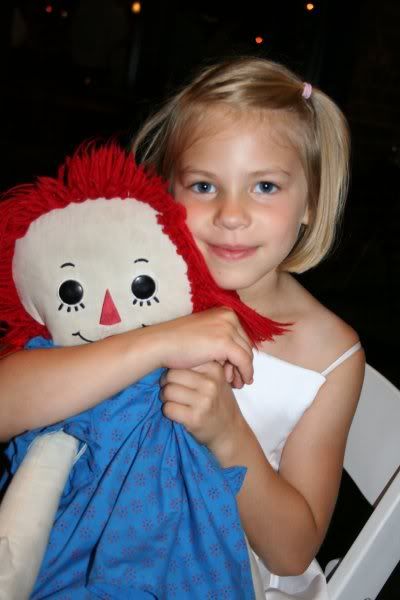 i had her almost asleep when i hear the DJ say men, grab your special lady we're gonna slow it down a bit. before i knew it Greg (the groom, my step-brother) was scooping up emma...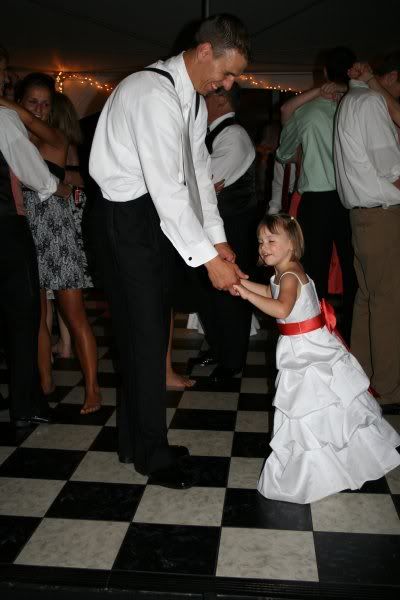 and Mike, the best man, was asking ashlyn if she would dance with him. she was crushing on him big time the night before at the rehearsal, so she got all shy and akward, but agreed. it made her night for sure. Mike has since been deployed to Iraq and she's anxious to get his address to send him a copy of this photo.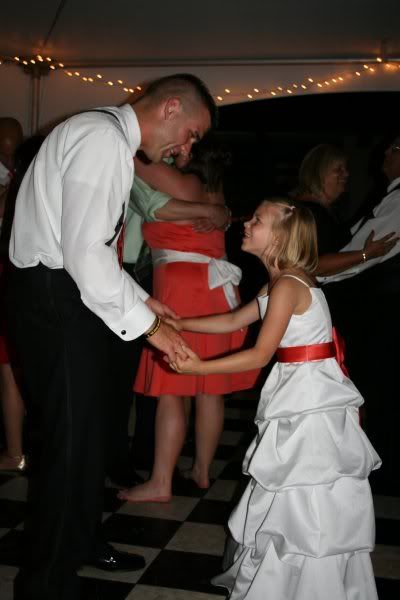 the end.