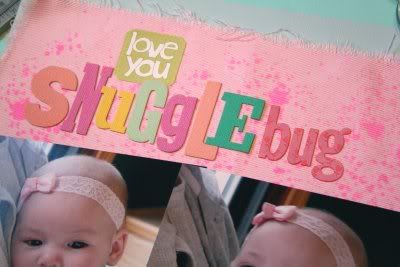 (layout in progress on my scrap desk)
i have several free pass giveaways going on around blogland over the next several days for
Scrapbooking with Fabric
, and as a result i've been getting emails asking about my online class and how exactly it works. if you've made your way here via one of those blogs--WELCOME! make yourself comfortable.
i thought i'd put it all here for others who are wondering the same things i've been asked in those emails.
(psssst......if you don't win on those other blogs......check back here September 1st for another chance to win!)
Q: How do i register?
You'll need to go to the
Scrapbooking with Fabric registration page
at debbiehodge.com and register there. The class fee is $35.
Q: What does the $35 cost include?
The class includes 6 lessons, available in PDF form AND access to a private class message board and gallery where you can talk and share with myself and the other students enrolled. There will be a lesson posted every Monday & Thursday for 3 weeks starting September 7. You will need to have Adobe Acrobat Reader installed on your computer. If you do not already have it installed on your computer, it's available for a free download.
Q: Class starts September 7th, but i don't get paid again until September 15th....can i still register on the 15th?
YES. absolutely. you can register
any time
during the class and you will not miss anything. upon receipt of registration you'll be able to immediately download all lessons that have been posted already.
Q: How does an online class work, i've never taken one before?
As mentioned, the class is available in PDF form. The PDFs include VERY detailed instructions along with supporting photographs to walk you through step-by-step of every process. The PDFs are loaded with tons of samples to reinforce each concept being taught. ALSO, i am available on the private message board to supply you with even more additional samples of beautifully handmade cards. The classes are posted twice a week as mentioned above. You will come to the Blackboard area of our private board to download the PDF directly to your computer. You can view it directly on your computer, OR print it and take it with you, AND you can save it to your computer to refer to over and over and over again. They are posted by 9AM, EDT on class days.
Q: Do I have to be there on the exact day the class is posted to be able to get that day's lesson?
NO. the beauty of an online class is that you can make it fit YOUR schedule. no leaving the house. :o) The lessons are posted and will remain posted on the private forum for AT LEAST 6 months.
Q: What if i get confused and have questions once i'm in the class?
We have a private message board for you to talk and communicate with me through the entire 3 weeks....and beyond. You will also be able to share and communicate with the other students in the class. I also welcome questions through email.
Q: What if i have dial-up service? Can i still take the class?
Absolutely. If the files are too large to load online or loading is too slow, we will accomodate and email you the files instead. Then you can still come over to the message board for all the chatter.
Q: What other perks are there to your online class?
There will also be GIVEAWAYS. If you've taken any of my classes before (or read my blog for long) you know how much i love giveaways! :o)
Q: Do i have to have a sewing machine?
NO. when preparing the materials i was very mindful of the fact that not everyone has access to a sewing machine. any projects that feature any sort of sewing (machine or hand) can be left off entirely and will not alter the outcome of your project. it's only there for decorative purposes.
Q: What supplies will i need?
The supplies used are basic supplies you already have in your supply of scrapbooking products along with a small collection of fabric items. Everything is very easy to find and i will help accomodate those who have difficulty finding any of the fabric adhesives. Things we will use in EVERY lesson (other than cardstock, patterned paper and miscellaneous embellishments) are: sharp scissors, fabric adhesive, fusible stabilizer (Pellon 808) and ink/paint.
If you have a question that wasn't answered here, please email me using that link in the sidebar and I'll be sure to get back to you right away!