there was a girl who blogged about everyday life, and not just scrapbooking. hahahaa. i don't know what happened to that girl.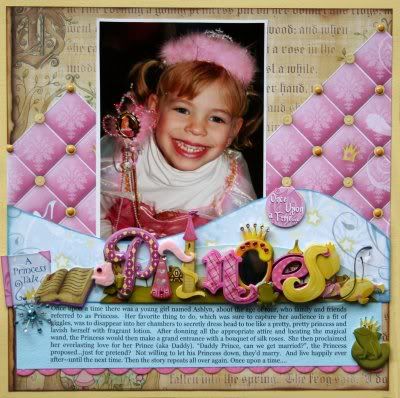 yep, you guessed it. today is another dose of scrappy news that i'm posting on the fly before i jet out the door to finally see the doctor for this annoying hacking cough that i have--only because i pulled a muscle in my stomach from coughing so hard. *scratch that* couldn't get the post finished before i left. turns out all i needed was an inhaler to help me breathe, thus stop the coughing. awesome. 2 puffs and i feel like a brand new person...and haven't coughed once. WOW. let's hope it lasts. i'm knocking on wood now, LOL.
anywho.
Karen Foster Design
just released a slew of products in their October 2009 release which you can see by
clicking here.
i'll be sharing samples over the next few weeks for the Princess, Winter, Love and Sisters collections.
i'm completely in love with these princess products and how easily they work together. this layout came together, start to finish, in less that 45 minutes. that's including writing the journaling, typing and formating it and then printing it.

they have these wonderful embellishments called Stacked Sentiments for many of their collections. know why i love them? well, because....all the dirty work is done for you! this sentiment is already wonderfully dimensional, with a variety of textures and embellishments, all in one sticker. seriously, just peel and stick. i love how it makes it look like i fussed over the title for hours. and it's so much bigger than that picture looks. as you can see on the layout it takes up about 7" across the page.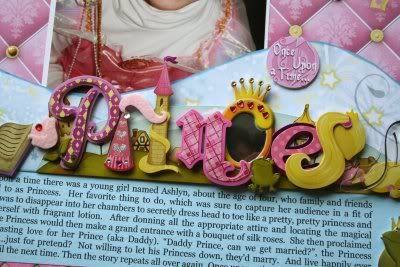 i especially love that the last "s" is a glass slipper......sooooooo CUTE! would be so much easier to see if i didn't crop it off the side there. sorry 'bout that.
i have these darling photos of ashlyn all dressed up in her princess costume from a few years ago that i just looooooove to pieces. i've scrapped this photo at least 6 times with various other collections, but they have all found their way to one trade show or another for display and didn't make their way back. this collection just begged for it to be used one more time. heehee.
this costume is now in shreds from her wearing it so much. she loves to play dress up, even today. so, i decided to pair the photo with a true story written storybook style.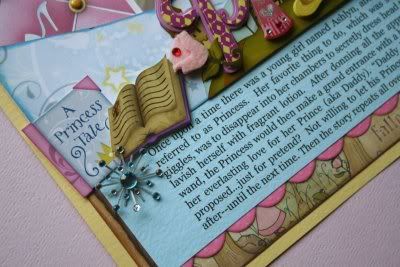 O
nce upon a time there was a young girl named Ashlyn, about the age of four, who family and friends referred to as Princess.

Her favorite thing to do, which was sure to capture her audience in a fit of giggles, was to disappear into her chambers to secretly dress head to toe like a pretty, pretty princess and lavish herself with fragrant lotion.

After donning all the appropriate attire and locating the magical wand, the Princess would then make a grand entrance with a bouquet of silk roses.

She then proclaimed her everlasting love for her Prince (aka Daddy). "Daddy Prince, can we get married?", the Princess proposed...just for pretend?

Not willing to let his Princess down, they'd marry.

And live happily ever after--until the next time. Then the story repeats all over again. Once upon a time....
here's the rest of the papers/stickers....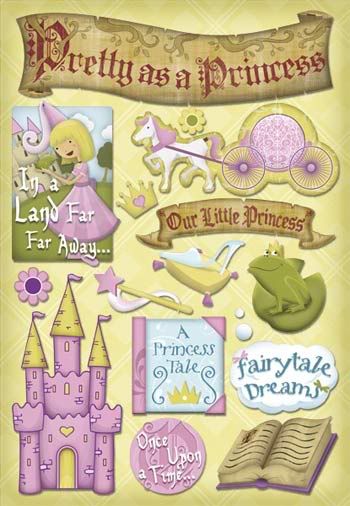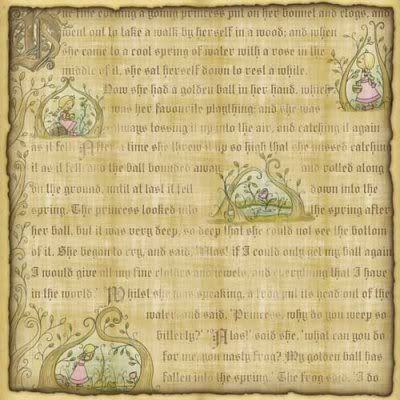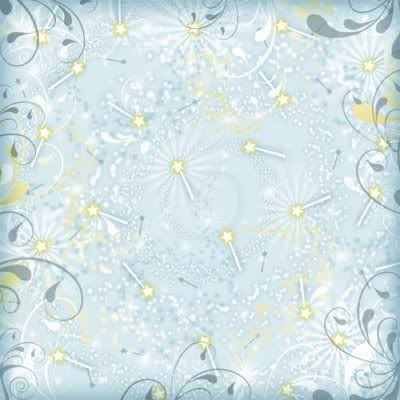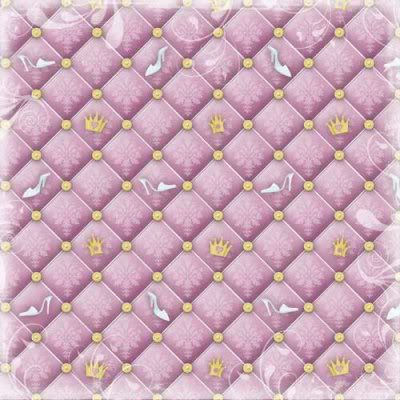 adorable, right? don't worry if you don't have little girls. they've also done a FABULOUS job on the
Dragon collection
for the little prince in your life.
up tomorrow.........WORLD CARDMAKING DAY! yahoo! stop back for some fun stuff going on here. in the meantime,
Sharyn
has some great inspiration on her blog to get you excited about making cards (and a giveaway!)
psssssssst. if you haven't taken my
Cards: Beautifully Handmade class
,
it's reduced 20% off until tomorrow night to celebrate Cardmaking Day!