uhhhhh......how's that for a creative title? *eyeroll*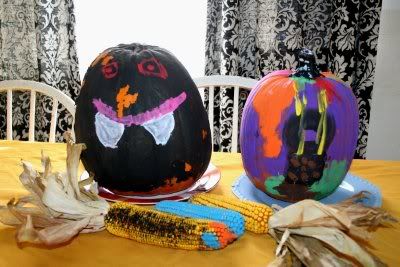 vampire pumpkin by ashlyn.
rainbow pumpkin with white polka-dotted black stem and glitter by emma.
that's all i've got for today.
just waiting on a call from the specialist about the new spread of ashlyn's morphea.....but i'm okay. i just keep telling myself.....
1. we have a diagnosis
2. it is NOT cancer
3. it isn't fatal
4. we have a treatment option
but, the........"there is no cure part" is, for some reason, causing me to worry. along with the "chemo is the treatment option" part. nobody wants to voluntarily kill their immune system.