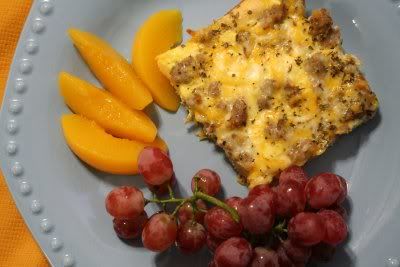 it's about time i share another recipe since i haven't done so in a while. i'm SO glad i've taken time to write some of these down, as my recipe cards seem to disappear overnight sometimes, LOL.
this is one of those meals that is in Ashlyn's top 3 favorite things to eat, and even though it is called Breakfast Pizza we often eat it for dinner. but, it's easy enough that you could have it ready, start to finish in less than 30 minutes (15 of that is bake time), in the morning.
it's super easy, economical, VERY yummy, and reheats well for breakfast the next morning.
Preheat: 400.
Sausage Breakfast Pizza
Ingredients:
1 lb. bulk pork sausage, cooked and drained
1 can of buttermilk biscuits (the cheap ones....not flaky)
4 eggs
2 TBSP milk
1/2 cup shredded cheddar cheese
1/2 tsp pepper
2 tsp oregano
Press uncooked biscuits into a lightly greased 9 x 13 pan, pinching the seams as you go. Spread sausage evenly over top. In medium bowl whisk together 4 eggs, milk and pepper. Pour egg mixture over top the sausage. Lift pan and tilt to allow egg to spread into all corners. Sprinkle cheese on top. Sprinkle oregano over the whole thing. Bake at 400 degrees for 15 minutes. Allow to cool 5 minutes before cutting. Serves 6 large portions or 8-10 regular portions.
tips:
*sometimes i heat pre-cooked sausage patties and dice them up after they are cooked instead of browning bulk sausage.
*we discovered last night that this is extra yummy with a small drizzle of warm maple syrup on top
*do NOT add extra eggs or you'll have a mess on your hands. it seems like there is not enough egg in it, but i assure you that 4 is the perfect amount.
*sometimes i use 1 whole can of biscuits AND a half can.
*you can substitute diced ham, but may want to eliminate the oregano if you do so.
*make two batches (in 2 separate pans) at once. it reheats well and my kids always eat seconds.
*i almost always serve mine with fruit to help balance the meal.
ENJOY!