i've been away.
thanks for the emails checking on me.
i am still alive.
etsy update.........well, i'll be honest. i don't know when that will happen. maybe tomorrow?

BUT

, in the meantime if you haven't noticed, i reduced everything in the shop to one price across the board. $2.50 per card. a steal considering the amount of time and product on them.
but, spidergirl (emma) has been sick again. and i thought the reduced price might encourage sales. heh. wishful thinking. daggone economy. but, i need to pay for these medical bills. *sigh*
monday found us at the doctor again. she had been battling a nasty cold, 102.8 fever since friday, needing her inhaler daily. so it was time to take her in. the surgery didn't really help her, and the fact that she's just prone to illness. every single fall from september to late spring she lives on antibiotics and has a nasty cough. and she's pretty much miserable. i think we're up to 28 antiobiotics in the last 4 years.
anywho. monday, i took her in and she was wheezing and rattling like crazy so they gave her a breathing treatment and left the office with an antiobiotic and an inhalable steriod that she now gets to take daily from now until spring. it won't keep her from getting sick, but it will help prevent the wheezing issues she gets because of her asthma. if this doesn't work, the next step is a referral to a pulmunologist.
on the way home from the doctor she started coughing violently and hyperventilating and crying in between that she couldn't breathe. i'm pretty sure i had a heartattack. i did a quick u-turn and sped back to the office. sat there for another 2 hours so she could be watched. very scary, this asthma stuff.
so what else...........
well. i haven't taken a single picture except about 5 in the past 2 weeks. a few weekends ago, i spent some time away at a friends house and filled both memory cards with pictures of their family gathering----a fall, farm harvest party. it was a total blast for me since fall is my favoritest season ever. and they had caramel apples. yummo.
all that to say, all those pictures are still filling my memory cards. lazy, i've been.
but i do have proof of the self-imposed haircut that emma gave herself while i was away. she had a super cute sling-bob, but for some reason decided that she wanted the sides to be gone. so she was sporting a choppy mullet for a few days. she did this just 3 days before her scheduled haircut.
my guess is that her hair kept getting stuck to her face from her excessively snotty nose and she just thought she'd solve that problem.
i didn't get a great forward shot, but here you can see the chopped off sides. she did this on both sides.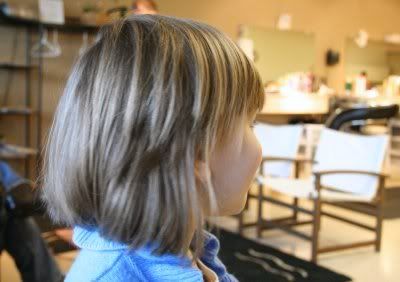 but Miss Jackie works wonders and now she's just as adorable, but has a much shorter cut. but really, she doesn't care about the hair.........she'd rather you see her car.